By David Pring-Mill
The following text has been excerpted from Sections 3.5—3.5.5 of the Policy2050 report "D2C and Other Digital Adaptations During COVID-19," in order to serve as a product sample and fulfill Policy2050's mission "to keep the most socially-relevant insights outside of any paywall."
Ecommerce is clearly accelerating but what about CX-focused efforts? Are brands investing enough in their recruitment of top talent that specializes in CX?
Amid incredible growth, the right optimizations are essential to fully engage consumers and address their needs.
Opportunity to capture growth, through experiences (CX)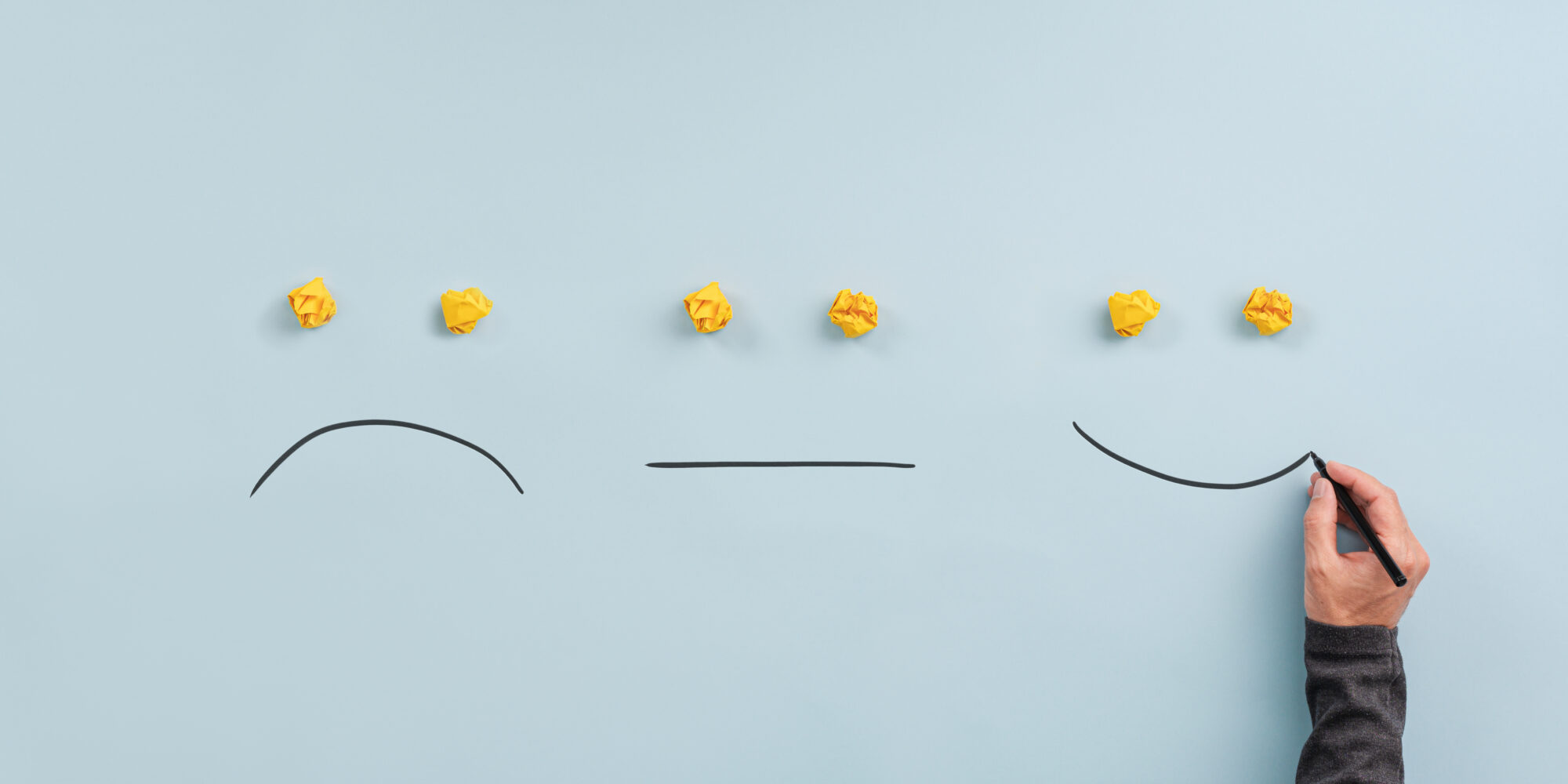 The growth is real: The level of quality and personalization in CX is correlated with increased revenue, according to many in the industry. The acceleration of ecommerce raises the stakes even further. McKinsey analysis of multiple data sources suggested that the equivalent of 10 years' growth in U.S. ecommerce penetration occurred in 3 months, at the outset of the pandemic in Q1 2020.
It's not just the U.S. and it's not just consumer packaged goods: A McKinsey survey of European consumers showed that the average "digital adoption" rate, defined broadly and across industries, increased from 81% to 94%.
Consumers are especially willing to try out D2C: According to the McKinsey research, 75% of U.S. consumers reported that they had experimented with different stores, sites, or brands. 60% of them expected that they would continue to use these new brands and stores post-COVID.

Conversocial, a CX platform, also conducted a survey of U.S. consumers in 2020. They found that 83% of respondents shopped online during the pandemic. 40% used curbside pickup. 80% intended to continue with online shopping in a post-COVID world and 30% intended to keep using curbside pick-up options from their local retailers.
CX is worth the effort: Many businesses see time to market (TMM) as an important factor and a challenge in their CX-related executions. The Adobe and Econsultancy 2020 Digital Trends report indicated that only 38% of the largest companies possess the level of digital infrastructure required to deliver on real-time, data-driven CX. This is in spite of 2019 findings that industry leaders in CX are 3x more likely to significantly exceed their top business goals.
Consumers expect versatility: In a 2020 Contentful survey, 83% of content management system (CMS) users and digital leaders said that an omnichannel digital experience has become a customer expectation.

The Conversocial survey showed that 71% of U.S. consumers expected brands to offer customer support over digital messaging channels (such as Facebook, Twitter, SMS, etc) and 66% expected personalized customer experiences over these channels.
The new business reality: At a time when many D2C brands are using the exact same ecommerce platforms, plug-ins, and fulfillment centers, dominant brands can no longer win by simply pitting their superior resources against a smaller rival. They have to delight their customers by showing that they're thinking in terms of total experiences.
CX shortcomings
In some industries and product categories, the pandemic and its economic damage was unavoidable, clearly evident, and understandably a top priority, compared with potentially hyped technologies and unclear ROI.
In Adobe's report, 29% of surveyed businesses indicated that a recession was their most significant concern in 2020, whereas only 11% cited the fear of falling behind the curve in terms of AI adoption.
19% of respondents identified as "CX Leaders" cited the recession as a concern, 10% less than the mainstream, perhaps indicating that CX skills increased not only their financial rewards but their level of confidence regarding their business resilience.
According to the survey of CMS users and digital leaders from Contentful, a content management system (CMS), there is a widely perceived correlation between the quality of digital experiences and revenue. However, time to market (TTM) and effective iterative approaches are still top concerns.
82% of respondents said that digital experiences were directly tied to increased revenue. 90% said that they are, in fact, vital for their business success.
89% cited time to market as a problem.
79% were concerned with their ability to iterate on digital experiences, once delivered.
38% of respondents using a "headless" CMS said that they possessed the ability to make a change once and have it reflected everywhere, versus only 26% of those using a "traditional" CMS.
Users reported that their efforts were being constrained by legacy CMS products that failed to scale, due to a reliance on manual processes and an inability to handle transactional APIs or multiple digital properties concurrently.
Despite the vast ecosystems of B2B tools aimed at automating work and lowering skills requirements, 49% of CMS users and digital leaders felt that they were burning too much time maintaining their content. Only 57% indicated that they could control all of the content on their digital channels without involving developers.
51% said that they were using multiple content management systems to pursue their experiential goals. 41% said they have to update content individually in each CMS.
By leveraging the most efficient technologies available, companies must take into account all of the impressions and responses that are being produced by the digital pathways that they have laid out.
If D2C enterprises evaluate the customer experience in terms of senses, emotions, perceptions, engagement, involvement, and other cognitive considerations, it won't just be an exercise in creativity or empathy. It will pay off for the business. This is relevant right up until the moment of payment, and even afterwards.
Brooks Bell's levers of CX optimization
Brooks Bell Inc., a firm specializing in A/B testing, cites 5 levers that could be used to test a brand or retailer's site for optimized customer experience:
Anxiety
Mental effort
Money
Time
Of those, Brooks Bell concluded that messages attempting to ease anxiety have been producing the greatest "win rate" for businesses, relative to other levers and proportionate to total tests run. It's also a much more relevant lever than it was pre-COVID.
Already heightened anxiety levels may be rippling over onto the ecommerce experience, especially since the bottlenecks associated with increased demand are now on the radar of consumers as well as businesses. From the consumer perspective, this may lead to concerns about packages arriving on time and intact, as well as concerns about unreachable customer service or unsafe in-store exchanges/returns.
The firm also notes that the amount of testing varies by industry but overall "the historic volume of testing during peak season is too low."
Insights from Moxtra, a customer collaboration platform
Leena Iyar, chief brand officer at Moxtra, told Policy2050 that her company digitally empowers the operations of businesses "that are more high touch, that require more persistence, and typically where there's a relationship going back and forth," extending beyond a one-time transaction. She listed law firms, real estate agencies, and financial services as users of their client interaction platform. However, another one of Moxtra's users is Toronto-based Just White Shirts, which is in the business of bespoke premium shirts, digitally factoring in design preferences such as collars and cuffs as well as measurements.
Iyar explained, "We do have customers as well that work on custom collectible products and are selling them direct-to-consumer, but also through retailers. And so it's an interesting one because they're able to get all the product footage of the items that they're selling, put that up there, put catalogues there, and sort of automate some of the workflows. So it's easy for them to manage all the retailer relationships, customer relationships, and some of the upsell relationships as well from the same place."
When asked about app fatigue, which is to say, consumers' potential aversion to more downloads and more notifications, Iyar responded that it's important to factor in the convenience, ease-of-use, and experience of the particular app. She said businesses sometimes fall into the trap of having app developers build products that aren't compelling.
Iyar said, "If you go back to the desktop, and look at the desktop as a form factor, it was primarily an information presentation tool. And as a result, if you look at the kind of products that did well for the desktop, a lot of them were productivity-oriented, in large part because you can multitask very easily on a desktop. I mean, I could be in a meeting with someone, I could have my messages app open. In the meantime, my email is there, I have a PDF open, and it's all running simultaneously, and I can toggle between the windows.
"But if you go ahead and you go to the mobile phone, you know, that's not the case. It's primarily a communication device, and multitasking isn't that simple. You open a window and you close a window and then you move to the next thing. And so the idea there being that, if you look at the companies that have done really, really well, for the mobile form factor, it is things like DoorDash, like Uber, that are providing this one-stop experience."
This one-stop experience isn't merely a bundling of features; it's about engaging the user and delivering against their intent fully.
Iyar noted that the pandemic-caused quarantines and WFH has meant that mobile usage is more sporadic and desktop usage has gone up, but "the most important thing is the context switching."
The context is different when consumers are considering an offer, or engaging with a digital experience, and it's also different for all of the behind-the-scenes discussions and business alignments.
Iyar cited the evolving nature of meetings as an example of digital transformation. In original meetings, the parties had to synchronize time and place. "With video meetings, now you have to synchronize time, but not place. But with asynchronous communication, where you can escalate when needed, you don't even need to synchronize time," she said.
Pre-COVID, one of Moxtra's clients saw about 70% of its business coming through small retailers and some larger ones, and about 30% through D2C. At the beginning of the pandemic, they virtually lost that lion's share of revenue overnight. Using Moxtra, they gained about 47% of their business back."
In today's world, it's no longer a nice-to-have, to have digital channels; I think it's a business imperative, and it's table stakes," said Iyar. It's especially critical, she suggested, to digitally project a brand identity that permeates every single touchpoint.
The limits of differentiation
As mentioned earlier, the shift to relationship-driven commerce naturally positions a business to maximize CLV and naturally incentivizes message-based differentiation. Automated, clear, value-creating messages that respond to where a customer is at in their buyer's journey will significantly improve open rates, click rates, and conversions.
But when everything is personalized, personalization is, somewhat ironically, less of a differentiator.
In 2018, omnichannel personalization platform Certona observed that only 39% of online retailers send personalized product recommendations via email. That was just a few years ago. And yet, executives eyeing even their own promotional inbox tab will likely observe that this is no longer the case. There's a lot of inbound custom/data-driven offers.
That doesn't mean that brands should stop personalizing these offers. It's just a comment on the way that differentiation gradually evolves into sameness. But just as there are advantages to differentiation, there are also some advantages to sameness, at least as an overall architecture within which a unique value proposition can be presented. Case in point: Jakob's Law.
The Nielsen Norman Group, which consults on UX strategy and offers UX certification, came up with this principle, which suggests that users spend most of their time on other sites and, therefore, are looking to your site to work the same way, or to use a common design language that aligns with expectations. Doing things differently may generate friction.
This idea has been held up by providers of cloud-based web development services, as it naturally aligns with their business model of reselling the same templates over and over. It is, in all fairness, probably true more often than not.
Jakob's Law originally called for websites to tone down their individual appearance and distinct designs, in terms of:
visual design
terminology and labeling
interaction design and workflow
information architecture
In the past, top consumer packaged goods companies built massive, lucrative brands through the standardization of product attributes. Principles such as Jakob's Law might be thought of as the digital equivalent.
Stretching that analogy even further:
These top CPG companies now have incredibly large portfolios of products and brands. The idea is to provide a product for every type of consumer and every type of want or need in each category.
Similarly, D2C sites may have a common design architecture but D2C brands canl target and personalize even further within that architecture. There may be other pages or pieces of content that the customer never even sees, because they're probably not appropriate for them and their needs.
HubSpot, an industry-leading platform for marketing, sales, and customer service, has observed that organizations can increase their leads by significantly increasing their landing pages.
What's especially interesting is that most companies don't see a sizable increase in leads when increasing their total number of landing pages from 1 to 5, or 6 to 10. However, when they increase their number of landing pages from 10 to 15, they generally see a 55% increase in leads. It spikes even further when a company has 40 or more landing pages on its website.
Again, the D2C site structure may be familiar but these landing pages are hyper-targeted and focused on different customer segments, which ultimately enhances the customer experience.
Purpose-built landing pages often lead to significantly greater site exploration than product detail pages. In fact, product detail pages (PDPs) have been found to have a bounce rate that is 72% higher than any other type of page.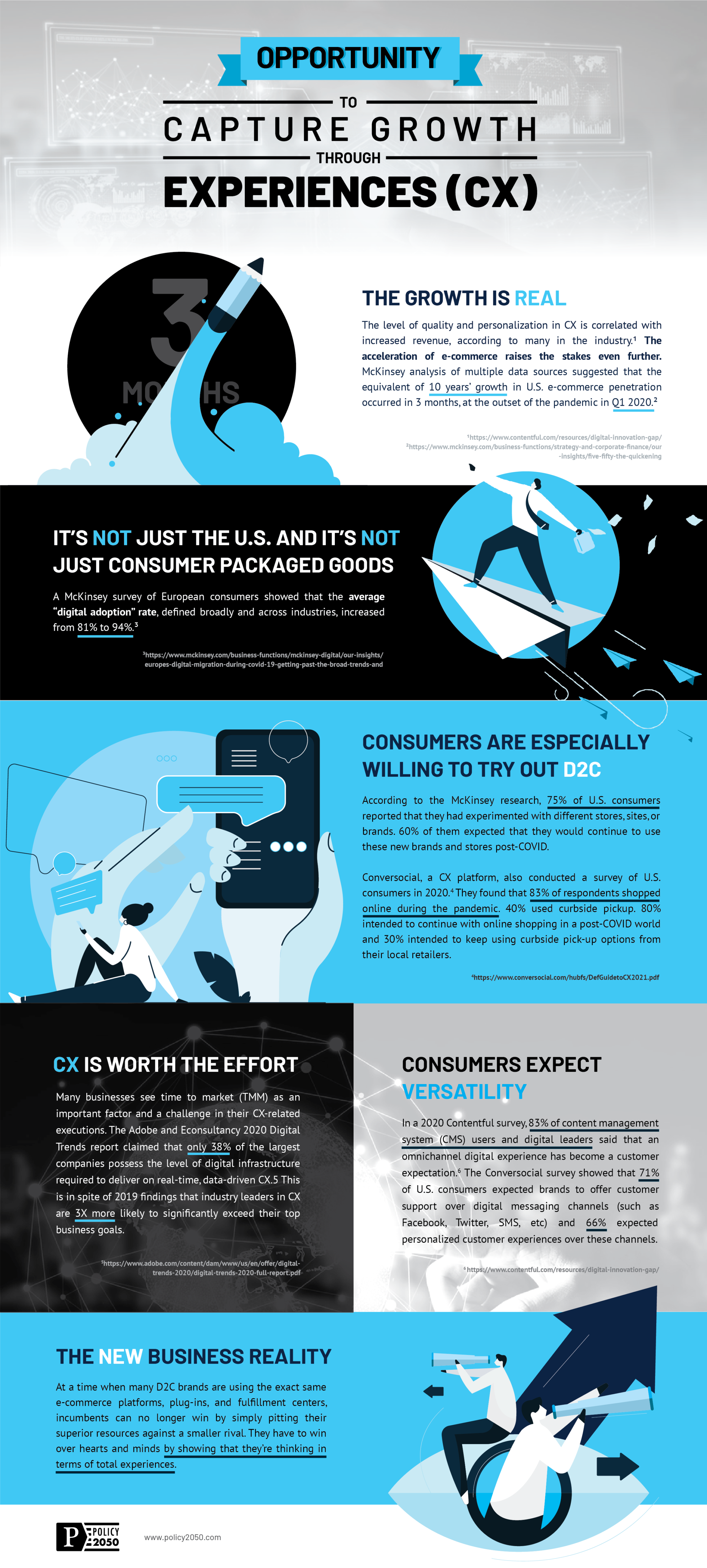 The full report "D2C and Other Digital Adaptations During COVID-19" is now available for purchase on Policy2050.com.