By David Pring-Mill
The following text has been excerpted from Section 1.5 (Executive Summary) of the Policy2050 report "Semiconductor Industry Leaders: Analysis and Growth Trajectories" in order to serve as a product sample and fulfill Policy2050's mission "to keep the most socially-relevant insights outside of any paywall."
Amid globalization challenges, key semiconductor industry players, including giants like TSMC, are adapting strategically to the changing landscape defined by trade wars, national security concerns, the need for resilience, and significant AI advancements.
The semiconductor industry forms the basis of technological advancement and global economic growth. The recent pandemic-driven chip shortage underscored this point vividly.
Semiconductor manufacturing is no easy feat: it involves etching elaborate designs of electrical circuits onto thinner-than ever silicon wafers with varying nodes and application requirements. Even the smallest particle of dust could introduce defects that compromise the functionality of the final microchips. This work demands highly specialized semiconductor foundries (plants).
Integrated Device Manufacturers (IDMs) like Intel design and manufacture their own chips.
The Foundry or Fabless model separates design and manufacturing. Fabless companies, like Qualcomm, focus on designing integrated circuits (ICs) and outsource the manufacturing to foundries, such as Taiwan Semiconductor Manufacturing Company (TSMC) and Samsung Foundry.
Moore's Law, described in Wired as "the liturgy of the semiconductor business," set high expectations across the tech sector for progress – doubling microchip transistors every two years, with costs halved. However, it's now facing inherent physical constraints.
Nvidia's graphics processing units (GPUs) have recently outperformed industry benchmarks for large language models (LLMs) that are behind groundbreaking AI applications. Case in point: a cluster of 3,584 Nvidia H100 GPUs raced through a GPT-3-related benchmark in a mere 11 minutes.
While this feat can be attributed to Nvidia's design prowess, the manufacturing credit predominantly goes to Taiwan Semiconductor Manufacturing Company (TSMC). This synergy, particularly in the AI era, allowed TSMC to outperform analyst expectations by posting Q2 revenue of NT$480.8 billion.
If new features of iPhones or other premium smartphones fail to wow consumers, or if users push back against the costs and environmental impacts of planned obsolescence, they might hold on to their current devices longer, as seen in the 11.3% slump in smartphone sales during 2022. This makes foundries vulnerable to shifts in specific technology sectors, absent diversification.
The landscape of artificial intelligence and semiconductor technology is rapidly evolving, with advanced node and packaging innovations playing a pivotal role. Concurrently, a major shift in optical sensing – the technology used to detect and interpret light – is underway, with implications for 3D imaging applications.
As innovations such as advanced lithography, AI-driven manufacturing, and the use of 2D materials beckon a new era, and more theoretical advancements are anticipated, it's crucial for investors, shareholders, and policymakers to rally behind the industry. Strategic collaborations, informed investments, and progressive policy shifts will be pivotal in overcoming challenges and catalyzing this technological evolution, especially given leading tech firms' renewable energy goals.
The semiconductor world now keenly eyes geopolitical dynamics, particularly regarding Taiwan, a linchpin in global chip manufacturing. Navigating through these tensions and labyrinthine supply chains, while safeguarding democratic ideals, is essential. The looming possibility of China's takeover of Taiwan by 2027 or earlier now takes center stage as a crucial risk to monitor.
TSMC's expansion of its foundries into regions like Japan and the United States, as well as the partnership between Taiwan's Powerchip Semiconductor Manufacturing Corp. and Japan's SBI Holdings to establish a foundry in Japan, point to the industry's efforts to diversify production and supply chains.
As these dynamics evolve, there's also an increasing awareness that the semiconductor industry might require more government incentives to foster continuous, resilient innovation and meet diverse global demands.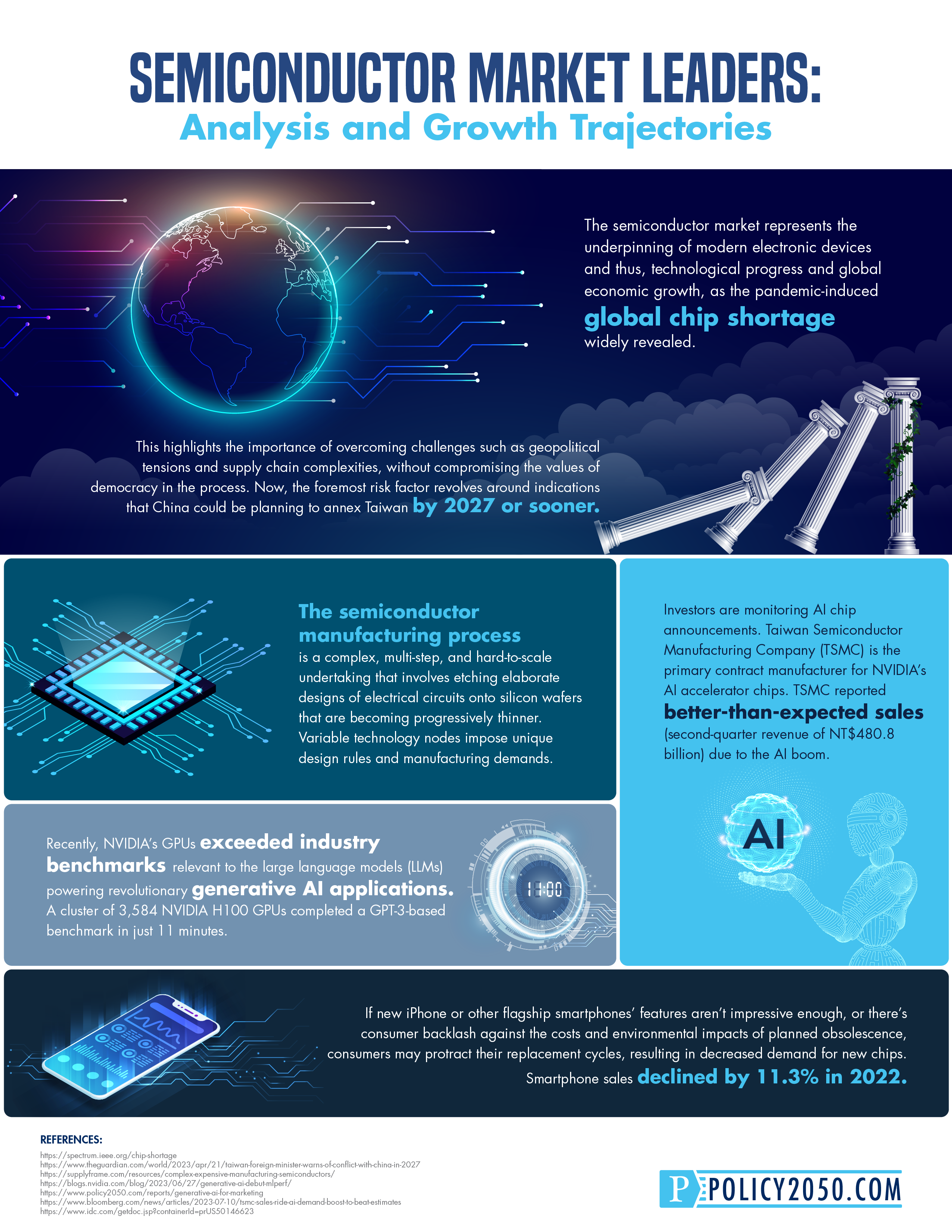 The full report "Semiconductor Industry Leaders: Analysis and Growth Trajectories" is now available for purchase on Policy2050.com.