By David Pring-Mill
Media stocks have been extremely volatile this year. Media companies are trying to find a path forward by making deals with each other, and presenting bundled deals to their customers. It doesn't always make sense to go it alone, even though that is now possible in a way that wasn't previously possible.
Investors are especially curious about the future direction of ViacomCBS, following the controversial succession planning and recent death of Sumner Redstone. ViacomCBS shares are down 33% year to date but seemed to rise in response to a reported video bundling deal, of CBS All Access and Showtime content, with Apple TV+.
Apple is hoping to increase the value of its offering by facilitating convenient, competitively-priced access to third-party content. The deal could accelerate user growth, offset Apple's own relatively small original content library, and position Apple's brand at the center of digital media services at a time when unemployed people are less likely to put down a month's rent on a new smartphone. But these new bundles and tiers might also be perceived as convoluted, at least from the outset. (AT&T CEO John Stankey has said of his own company: "We're basically unbundling to re-bundle.")
Apple is also working on a new bundling strategy that is internally referred to as "Apple One," which may include very diverse media offerings: news, games, extra iCloud storage, and possibly even virtual fitness products, a category that caught investor attention through the hype around Peloton and through Lululemon's US $500M acquisition of Mirror.
Will all these different components fit together, in a world that is increasingly going digital to avoid a biological threat?
ViacomCBS reported that its Q2 streaming and digital video revenue rose by 25%, whereas the ad revenue supporting its cable and broadcast outlets fell by 27% due to the ailing economy. However, streaming isn't where the company makes most of its money.
For this same reason, Disney has been struggling, despite the launch of Disney+, because over the years they capitalized on their brand and media properties through Broadway plays, cruise ships, theme parks, merchandise stores, and even English language training programs in China that adopted a storytelling approach. All of these endeavors suffered during the pandemic for obvious reasons, and Disney CEO Bob Chapek has been scaling back and scrapping projects to stabilize the business.
Media companies aren't just reprioritizing what they do. They're reevaluating who they are.
ViacomCBS is considering a rebranding: "CBS" skews to an older demographic and might not carry over as well to digital. A sale of the company even seems possible but is unlikely in the near-term as shares are currently undervalued from the perspective of owners and management. There is also reason to believe that an activist shareholder has been acquiring a significant stake in the company.
It's not just investors following all this action. It's consumers.
Whereas some companies rarely make their inner workings known to customers, focusing the attention entirely on the product, content licensing deals have become a conspicuous part of media consumption. This generates a sense of pressure to use the product, and becomes fodder for listicle writers rattling off what is coming and going from different streaming services. HBO Max's launch was boosted by the inclusion of the "Harry Potter" movies, but it creatively informed its customers via email that the films would soon "disapparate" and they should have their "wands at the ready." A countdown clock was included.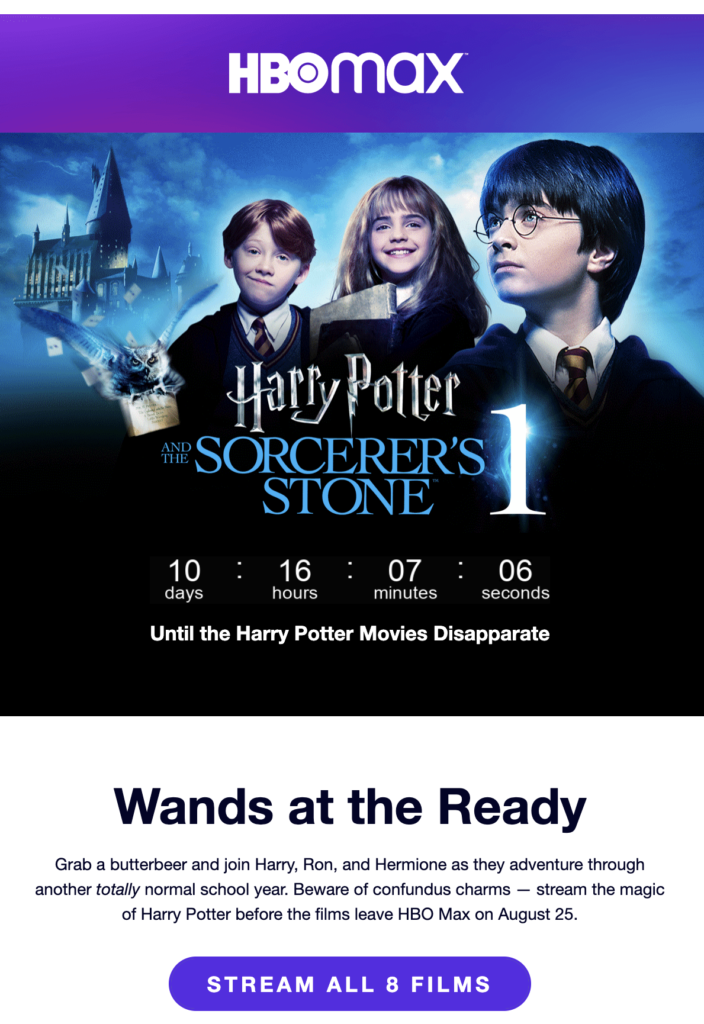 Although HBO is a business unit of WarnerMedia, which controls the "Harry Potter" film rights, the matter had been complicated by the leasing of film rights to NBCUniversal for its various linear and digital platforms until 2025. A temporary agreement was evidently struck. According to a Harry Potter lexicon, "disapparition" occurs when a wizard seems to disappear from one location but actually teleports to another. Thus, it seems appropriate given that the "Harry Potter" movies will continue to exist on streaming platforms, exclusively or concurrently, for some time to come.
With streaming services being all the rage, comedic actor Ryan Reynolds even took the opportunity to parody the frequently derivative interfaces and call attention to low-cost MVNO Mint Mobile, in which he has an ownership stake. The company currently hosts a mock streaming service at mintmobileplus.com, with the content sections "Original Originals," "Kind of Originals," "Unoriginal Originals," and "Top 10 in US." All of these sections contain only one movie, bundled incessantly, with differently designed thumbnails: it's the low budget 2003 Canadian heist film "Foolproof," which unsurprisingly starred Ryan Reynolds.