By David Pring-Mill
The following text has been excerpted from Section 6.7 of the Policy2050 report "Functional Beverage Market in Russia, 2021," in order to serve as a product sample and fulfill Policy2050's mission "to keep the most socially-relevant insights outside of any paywall."
Participation in Russian business might require a more expansive view of global practices.
In Russia, processes can be more protracted and less defined or transparent; they generally hinge on relationships. This means that businesses derive benefits by consistently maintaining their relationships, as opposed to maintaining their practices in accordance with established guidelines and market forces.
Bribery is more culturally acceptable in other markets, including the Russian market. The most effective anti-corruption reforms tend to work by shifting the dynamics. The disadvantages of bribery must outweigh the advantages, or at the very least, the scale must appear to be tipping towards a balance, such that the uncertainty of enforcement becomes a deterrent.
However, even then, the deterrence effect depends upon the subjective or even cultural level of comfort with uncertainty! It also, interestingly enough, depends on whether businesses believe that their competitors are engaging in bribery; an analogy could be found in the use of steroids for competitive sports.
American business culture embraces risk — the technology sector, in particular. High risk tolerance is arguably one of the forces behind the American entrepreneurial culture and its relatively high output of innovations (or even new industries).
The U.S. market also has its own forms of complication, including slotting fees, frivolous litigation, and increasingly, public relations.
U.S. courts make companies accountable but they can also allow for the occurrence of what are, essentially, shakedowns. The degree of variability in judgments and the cost of legal proceedings in the United States is high enough that health food and beverage companies have taken to settling class action lawsuits as a matter of routine, whenever their functional claims are challenged. (This is not to suggest that their functional claims are always valid; sometimes, the misrepresentation is very deliberate and harms consumers. The point is that they often settle either way.)
A sense of right and wrong can still be found within all of these markets, perhaps intuitively and subjectively, if not legally, by those who are willing to look for it. But can the difficulty of conducting business be determined, objectively and quantitatively?
Every year, the World Bank tries.
The World Bank determines the ease of doing business globally, scoring countries based on regulatory characteristics that are thought to promote efficiency and business freedom.
In 2020, Russia was ranked 28th.
Boris Titov, Presidential Commissioner for Entrepreneurs' Rights of the Russian Federation, refers to himself as an ombudsman, saying "people come to me when there is a problem already." He's careful to note that this may result in him seeming to be more focused on negative economic conditions. Titov says that criminal laws are sometimes unfairly weaponized against businessmen.
"We have problems with bureaucracy, corruption, sometimes," he remarked at Davos, before adding that to some extent, they found a way to deal with it.
Pressed for clarification, Titov provided an example: "So I already started the business and then I grew up and suddenly somebody says, 'Okay, it's a good business, let's try to take it.' And we are better than that, protecting the rights of the businessman." Titov said that the problems have shifted to "control, bureaucracy, administrative pressure."
He also welcomed the fast growth of restaurants, cafes, and "a big wave of small investments, of growing small and medium businesses with new brains."
Titov said that they're devising ways to reduce bureaucratic pressure on businesses and suggested that foreign investors are especially well-positioned because it's actually harder to grow a business domestically.
He said, "From 70,000 applications to me as an ombudsman, only 16 were from foreign investors, from foreign companies."
Titov interpreted this relatively lower number of applications to mean that foreign companies are less likely to encounter bureaucratic pressure than small and medium-sized enterprises that are native to Russia. Alternatively, it could be that foreign companies don't know how to approach him, or employ a different approach to overcome obstacles and remedy harm.
Some Western CPG companies may have immediately, and quite reasonably, balked at the line "it's a good business, let's try to take it." These types of fears have almost certainly impeded Russian entrepreneurialism/CPG market development, and there's a basis for them.
On the independent Russian television channel TV Rain, billionaire grocery store founder Sergey Galitsky was asked about this occurrence.
Journalist Yulia Yarosh referenced a statement from media mogul Rupert Murdoch, in which Murdoch suggested that increased success in Russia would increase the chances of the business being taken away. She wondered if Galitsky's grocery business, Magnit, was "untouchable" or being pressured. Galitsky interrupted by referring to the TV channel and questions as pessimistic.
Sergei Galitsky started out in Russian business by gaining exclusive rights to distribute Procter & Gamble products in southern Russia. Magnit's success was driven, in part, by IT automation and optimization, as well as Galitsky's own relentless approach.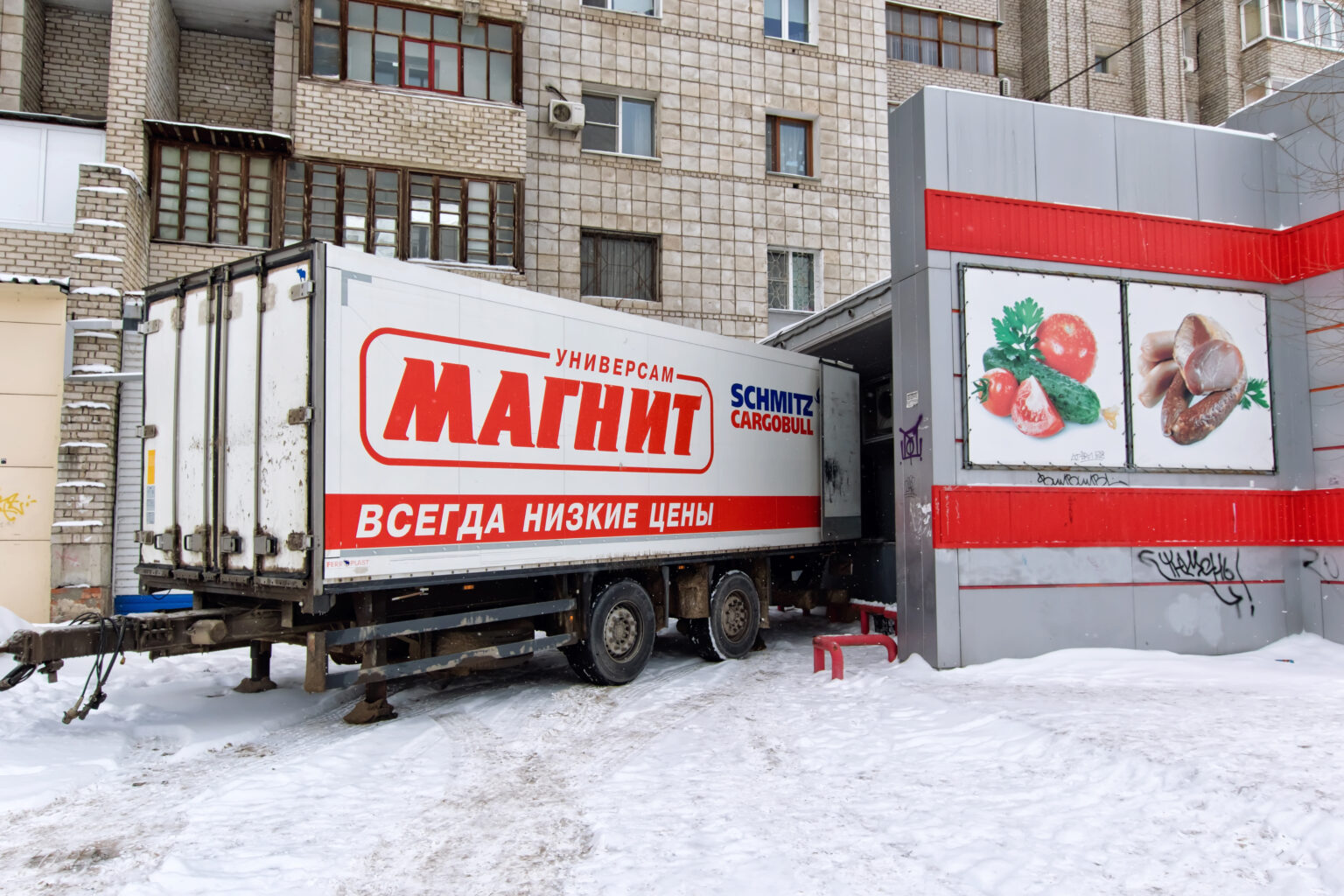 Galitsky commented, "It seems like a psychological imprint we have that someone will take away something. Yes, there was an incident with that big company, this famous story. But who took away from who after that?"
One of the hosts clarified that Galitsky was referring to Yukos. Galitsky said yes but suggested that it happened a while ago. When he asked, perhaps rhetorically, for a more recent example, the two hosts responded, "Euroset was seized."
Galitsky disputed this, saying that the company was bought and "as far as I know, Euroset had some troubles with customs, if we are being honest."
He went on to say that journalists had been asking him for the last 8 years whether he's afraid of something happening with his business.
One of the hosts suggested that this phenomenon, or fear of this phenomenon, had its origins in the 1990s, when success in Russian business required "krysha," which literally means "roof" but roughly translates to "a protection racket."
This part of the discussion ended with Galitsky remarking that journalism skews negative, while also suggesting that business, broadly speaking, is "survival of the fittest."
Regarding bureaucratic pressures, Galitsky noted that "the amount of lost energy if you are starting up with the government will be disproportionate to the result." He advised, "There are some set boundaries, work within them." He disputed the notion that the government would resist an appeal to remove an outdated or irrelevant regulation as a matter of principle.
After this, one of the hosts pointed out that Galitsky was himself very upset about a trade law passed in 2010.
Galitsky replied, "This is a restriction on the type of activity. If you are providing a cheaper service, you shouldn't be restricted. But to do no harm, I don't want to discuss the trade law. That's it. It's going to be even worse for me. I don't want to comment. It works and everything works well."
"But when did you write a letter and get rejected?" inquired one of the hosts.
Galitsky answered, "Everything is happening slowly. But this is a state machine. In which country does it happen fast?"
The relative degree of business difficulty has obvious implications for multinationals aspiring to capture a greater share of the Russian market but it also affects the way that Russian consumers perceive their own retail environment.
According to Ipsos global consumer surveys from mid-March 2020, 28% of consumers in the United States reported that they stocked up on food and 23% on water, at a time when cases had exceeded a thousand. This was, of course, only the beginning of the escalating death toll.
In mid-March 2020, only 12% of Russians said they had stocked up on food and 9% on water.
Another notable difference is the reasoning attributed to that stockpiling behavior:
81% of U.S. consumers said that local food and supply shortages would be the consequence of stockpiling behaviors and 19% anticipated supply chain failures or inadequacies.
49% of Russians thought that supply chain disruptions would be the cause of local shortages, with the other 51% citing other consumers' stockpiling behaviors.
In other words, there seemed to be less Russian consumer confidence in the resilience of business operations.
In the context of 2021, it is now apparent that supply chain disruptions are, along with inflation, continuing to produce an impact globally.
The full report "Functional Beverage Market in Russia, 2021" is now available for purchase on Policy2050.com.