By David Pring-Mill
The following text has been excerpted from Section 4.5 of the Policy2050 report "D2C and Other Digital Adaptations During COVID-19," in order to serve as a product sample and fulfill Policy2050's mission "to keep the most socially-relevant insights outside of any paywall."
Brands understandably want access to Amazon's customer base, which has become even more important during the pandemic. According to the company's Q3 2020 results, third-party sellers surpassed $3.5 billion in sales on Prime Day, which represented a nearly 60% year-over-year increase. However, some of these sellers are leery of supplying product, market, and customer data to an entity that is simultaneously a partner and a rival. Participation is advantageous but not if it ultimately blocks their own brand's growth.
It has been alleged that Amazon collects data on the products and purchasing behaviors within its third-party ecosystem and leverages that to develop, promote, and competitively price its own private label products. However, the experiences of sellers seems to differ, and it also seems that internal practices may have deviated from the stated policy.
According to a 2020 survey of Amazon sellers conducted by Jungle Scout, an Amazon business management platform, 58% of sellers indicated that Amazon made it harder for them to compete in their product category in the past year.
53% said that Amazon's private labels are directly competitive with their own products.
In a Feedvisor survey, 42% of brands indicated that their top business strategy on Amazon is to identify their competitors. When asked about their top source of competition, 37% of brands cited national or global brands, followed by D2C brands (25%) and Amazon's private label brands (21%).
Of the brands selling on Amazon, 23% indicated that their greatest source of competition comes in the form of Amazon's private label brands; 19% of the brands not selling on Amazon said the same thing.
When asked about the worst parts of selling on Amazon, the needle of discontent moved a lot more. 69% of brands cited Amazon's exclusive or private label products as one of the platform's unfavorable aspects. In other words, many brands dislike being on an ecommerce platform where the owner of the platform is competing against them, but they don't necessarily view them as their greatest source of competition. (Many brands would likely express similar notions about private labels in brick-and-mortar retail.)
But the concerns about copycatting extend beyond the ecommerce giant itself.
In the Jungle Scout survey, 68% of sellers expressed concerns about Chinese suppliers selling their products, or similar ones, at lower costs.
EC Accelerate, a business selling courses on "entering China," recently advised its email list: "DON'T worry about patents and copyrights that are nearly impossible to hold up in international courts anyway."
IP theft still lurks within many global trade relationships, potentially shifting incentives away from innovation. Overseas manufacturers and suppliers could have insights into proprietary molds, methods, or product features. Amazon, the other notable partner/potential rival, has the ability to glean insights from platform data.
Both are being viewed as possible threats by some online businesses.
A former Amazon engineer indicated to a congressional committee that data from AWS, the company's cloud computing platform, has also been used to proactively identify growing businesses and build competing products.
With Amazon clearly having a unique, industry-leading ability to make the most out of low margins and complex supply chains, it has advantages even beyond understanding the inner workings of its own platform. That is, unless the third-party sellers can differentiate on qualities other than price and create brands that are strongly imbued with competitive characteristics of their own.
This risk still needs to be scrutinized further. And it likely will, given the regulatory concerns around the tech sector that have been steadily increasing.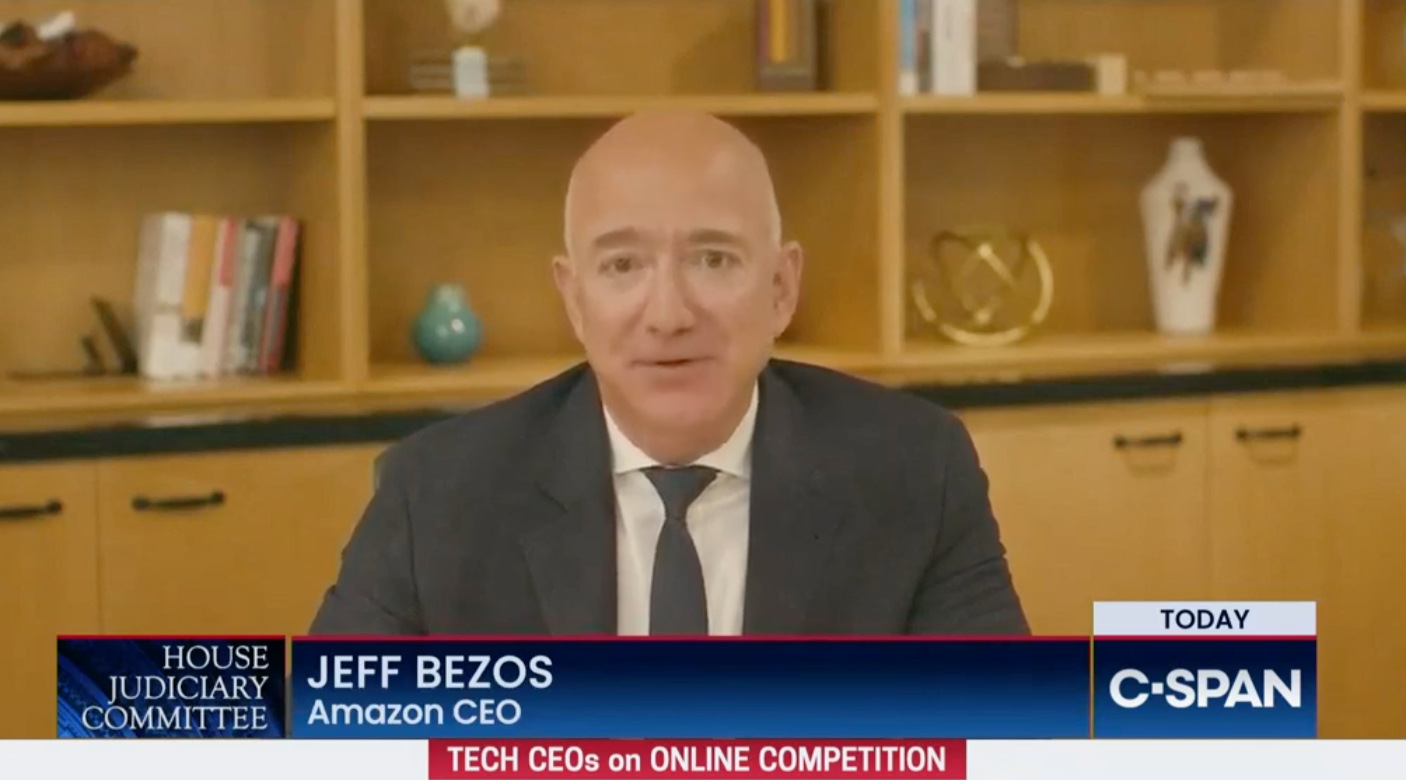 In testimony before a House Judiciary Subcommittee on Antitrust Law on July 29, 2020, former Amazon CEO Jeff Bezos attributed his company's success, in part, to trust earned slowly over time, by doing hard things well, with the implication that any unprincipled decisions or behaviors would undermine that. Alphabet and Google CEO Sundar Pichai used similar messaging in the same hearing, saying it's in their long-term business interests to not actively exclude voices.
Very often, there is a stark contrast between how large corporations regard themselves internally and how they portray themselves to investors, and the position they present to regulators. The spectrum can range from self-aggrandizement to minimizing success, depending on the particular objective.
At these and other hearings, the tech giants both gently and assertively fended off characterizations that they were monopolies abusing their market power.
Politicians redirected their seemingly conflicting, internal corporate language against them.
U.S. Rep. Mary Gay Scanlon brought up predatory pricing tactics and supported her characterization with a quote that was attributed to Bezos in a 2014 issue of The New Yorker. While negotiating with small publishers, Bezos is said to have likened Amazon to a cheetah pursuing a sickly gazelle. The Amazon-related predatory pricing questions aired during the hearing encompassed books, diapers, and smart speakers.
U.S. Rep. Neguse referenced an internal Facebook email thread with senior engineers in 2012, in which Facebook CEO Mark Zuckerberg made a remark about his company's ability to buy any competitive startup. He added that it would be a while before they could buy Google. Asked if he recalled this email, Zuckerberg replied, "Congressman, I don't specifically, but it sounds like a joke."
Internal communication guidelines reportedly from Google warn employees that courts and regulators often focus on the intent behind corporate decision-making. Therefore, the guidelines discourage any expressions that could be misconstrued.
The core guidelines are listed as follows, and quoted here verbatim:
We're out to help users, not hurt competitors.
Our users should always be free to switch, and we don't lock anyone in.
We've got lots of competitors, so don't assume we control or dominate any market.
Don't try and define a market or estimate our market share.
Assume every document you generate, including email, will be seen by regulators.
Consistent adherence to these types of guidelines might require a significant shift in culture. It's possible that an atmosphere of self-censorship, in terms of business language specifically, could hinder the emergence of the next great idea or strategy. Therefore, the risk of internal language being quoted, inaccurately or accurately, in a regulatory context needs to be weighed against the risks of stifling a team's unrestricted brainstorming and honest evaluations.
If there is guideline adherence, there may soon be a blurring between internal and external corporate language.
The debating with Bezos underscores the relevance of guideline #4.
In his opening statement at the hearings, Bezos depicted Amazon as accounting for less than 1% of the global retail market and less than 4% of U.S. retail. He said there's room for multiple winners and defined Walmart as being twice Amazon's size.
Later, U.S. Rep. Neguse responded that this characterization relied on a broad definition of retail that includes restaurants, bars, and gas stations. Bezos countered that ecommerce isn't a different market, it's a different channel; and Amazon commands 30-40% market share of that ecommerce channel.
At other moments, representatives referred to eMarketer's characterization of Amazon as having nearly 7 times the market share of its closest ecommerce competitor. They also mentioned that Amazon itself had cited eMarketer in submissions to the committee, with the implication being that Amazon had rubber stamped the market research company as a credible and accurate source of figures.
The subsequent report from the committee concluded that Amazon's market share is likely understated, and estimates of about 50% or higher seem most plausible.
Regardless of the framing or perceived scale, the concern for D2C brands is what Amazon will do with its scale — and whether it will be for or against them, or a bit of both.
Business concerns over Amazon's use of data from its third-party ecosystem have existed for a while but Wall Street Journal reporting from April 2020 appeared to have put the issue on the political radar at a relevant time. Interviews with former Amazon employees and internal documents substantiated concerns that Amazon gleans insights on price points, total sales, earnings potential, marketing and shipping expenses, and product features.
Amazon provided a written statement to the newspaper that said employees are prohibited from using nonpublic, seller-specific data to determine which private label products to launch. They decided to conduct an internal investigation.
However, former employees said that using seller-specific data was a common practice and openly discussed in meetings. One practice, referred to as "going over the fence," involved managers asking Amazon business analysts to create reports featuring these competitive insights.
Amazon's distinction between individual third-party seller data and aggregated data isn't especially meaningful for niche products with a limited number of sellers, where so-called "aggregate" insights would essentially reveal the trajectory of a particular product creator or category leader. Nevertheless, in his testimony, Bezos suggests that these reports are comparable to a bestseller list or publicly viewable product ranking.
When directly asked if Amazon's stated policy would allow the use of aggregate data when there are only 2 or 3 sellers of a particular product, Bezos said that it would.
To the extent that it does rely on its own platform data, Amazon points out that this is only one of multiple inputs. Consumer trends and manufacturer suggestions are also factored into product launches or adjustments.
According to Amazon, private-label businesses accounted for 1% of $158 billion in annual retail sales. This would seem to minimize their incentives here, relative to other operations. However, former executives said that Amazon's private labels were aspiring to be more than 10% of retail sales by 2022, and category managers were reportedly told to create $1 billion businesses for their segments.
In his testimony, Bezos pointed out that Amazon spent billions building their own digital real estate and allowed third-party sellers into that space, voluntarily, in order to provide better customer experiences. They also voluntarily adopted the policy against using seller-specific data to aid their private label business. Third-party sellers voluntarily participate and are doing extremely well, overall.
When asked if the data use policy had ever been violated, Bezos said he couldn't answer the question with a yes or no, or guarantee that it was never violated.
A former Amazon employee in third-party sales and recruitment had previously told the committee that there's a rule but no enforcement or spot checking, and compared this unfettered data access to "a candy shop."
When U.S. Rep. Mary Gay Scanlon suggested that Amazon's increasing third-party seller profits were revealing of its market power, Bezos replied that sellers were taking advantage of the incremental services available to them, such as fulfillment.
Rep. Scanlon pressed on to determine whether adoption of these incremental services was becoming a prerequisite to success on the platform. Specifically, she asked whether enrollment in the fulfillment services was necessary to qualify for the coveted Amazon buy box.
Bezos said that indirectly, the buy box does favor products that can be shipped with Prime, especially if the customer is a Prime member. If there are multiple offers from multiple sellers for the same item, the buy box algorithm tries to predict the item that customer would most like.
According to Consumer Intelligence Research Partners, an estimated 65% of Amazon users in the U.S. were Prime members at the end of 2019.
House Judiciary Subcommittee on Antitrust, Commercial and Administrative Law Chair David Cicilline argued that 37% of the 2.2 million active sellers rely on Amazon as their sole source of income, which heightens the severity of the problem if interests are not aligned.
Cicilline mentioned that Amazon publicly referred to its third-party sellers as both partners and customers but privately referred to them as "internal competitors." Bezos conceded that in some ways, Amazon is competing with them, and they're also competing with each other.
Cicilline alleged, "This investigation makes clear that Amazon's dual role as a platform operator and competing seller on that platform is fundamentally anti-competitive and Congress must take action."
SunTrust Robinson Humphrey, a corporate and investment banking firm that has now been integrated into the new entity Truist Securities, had previously predicted that Amazon's private label business would generate $25 billion a year by 2022. They also observed that private label products were increasing at a high rate.
Some analysts have undercut widespread industry fears by suggesting that Amazon's private-label business is actually a "paper tiger." It's all relative, of course, but the paper tiger proponents have contended that a lot of the private label growth comes from Whole Foods' 365 Everyday Value label.
The Whole Foods' 365 Everyday Value products often carry premium prices that reflect organic or qualitative attributes but they are essentially commodity products. In other words, not the type of knockoff consumer product that might owe its success to covert data collection.
Again, Amazon itself shouldn't be the only threat listed in a SWOT analysis. Selling on Amazon could put a product on the radar of another seller in the third-party ecosystem, who might be able to make a copycat product overseas, for less, by leveraging manufacturing resources or connections.
Even without the under the hood data that Amazon may or may not be using, customer reviews on Amazon could also be an indicator of the market on Amazon for that product and might also reveal the strengths and deficiencies of that product. As mentioned, the overseas manufacturer itself might choose to become a competitor.
Another option in the Amazon seller's dilemma is the "if you can't beat 'em, join 'em" approach, i.e., directly soliciting Amazon's direct involvement. The company has created an accelerator program, which helps manufacturers to launch brands and products that are exclusive to Amazon.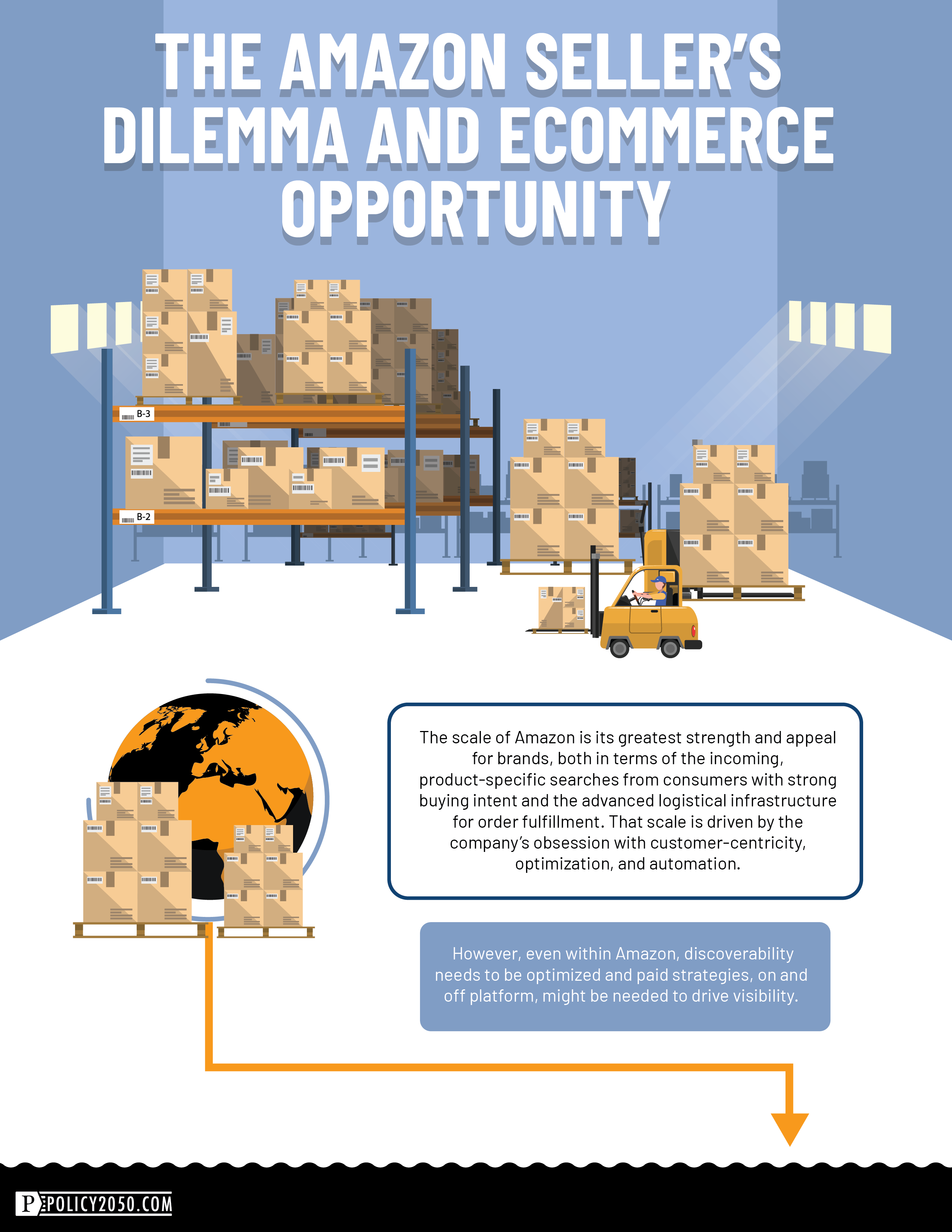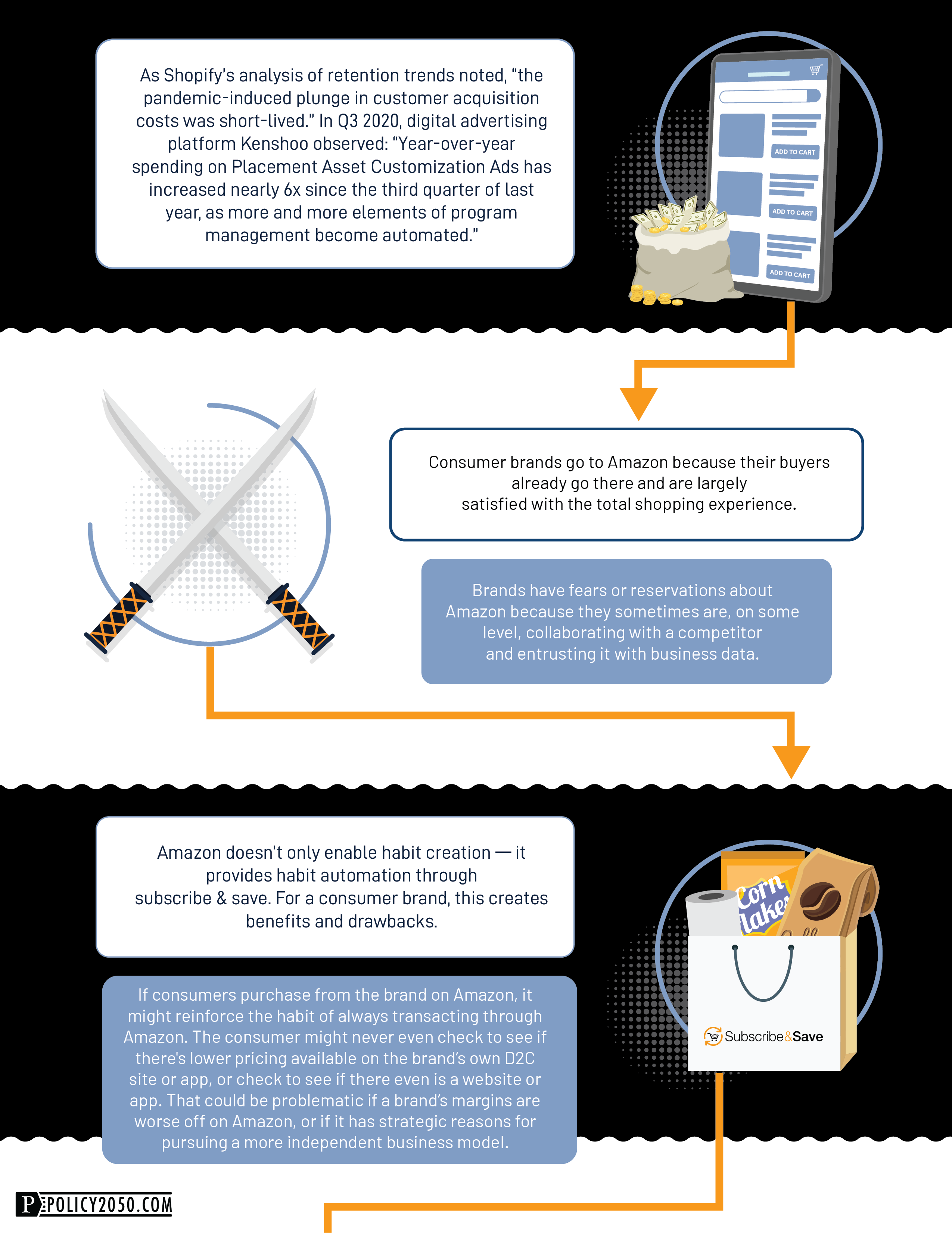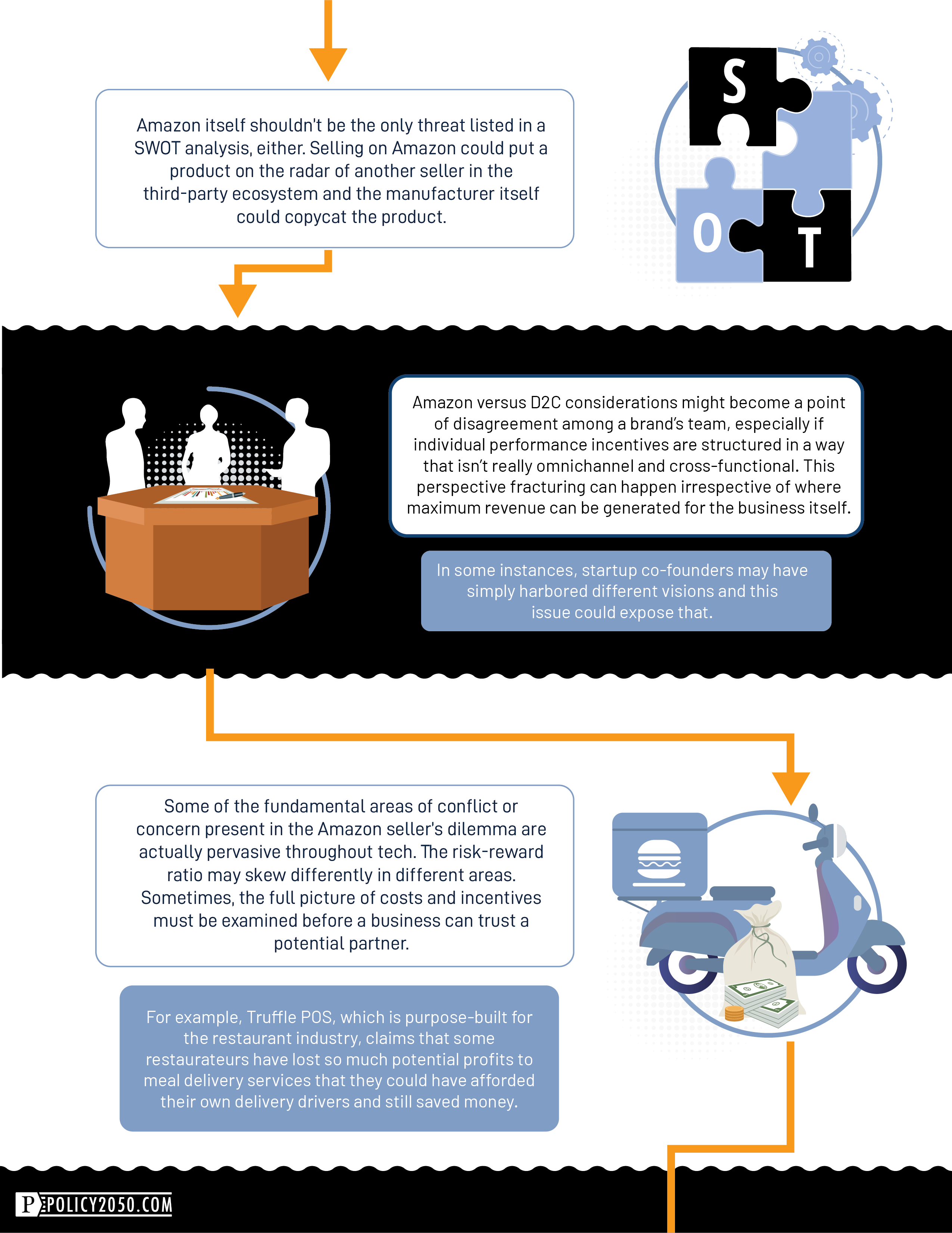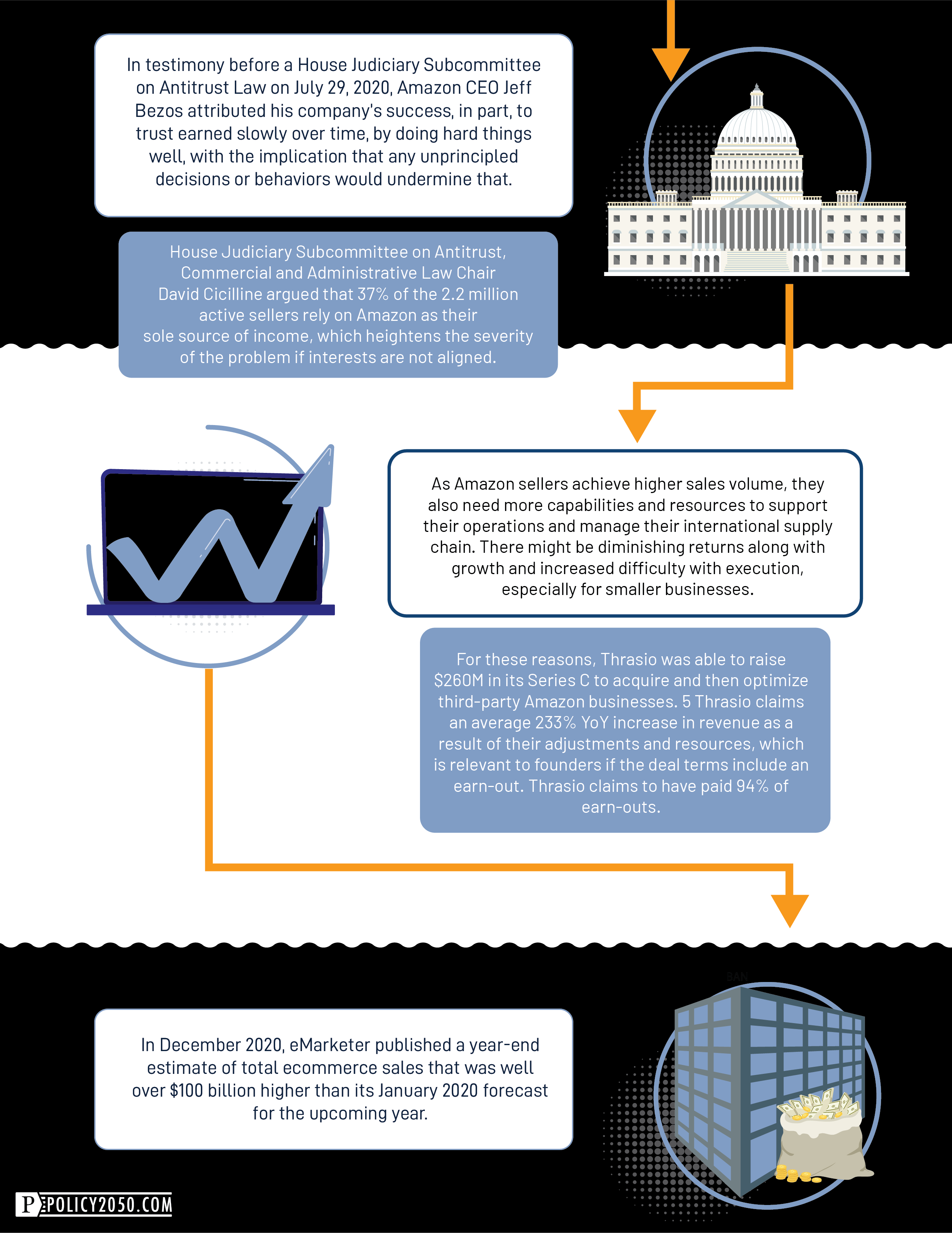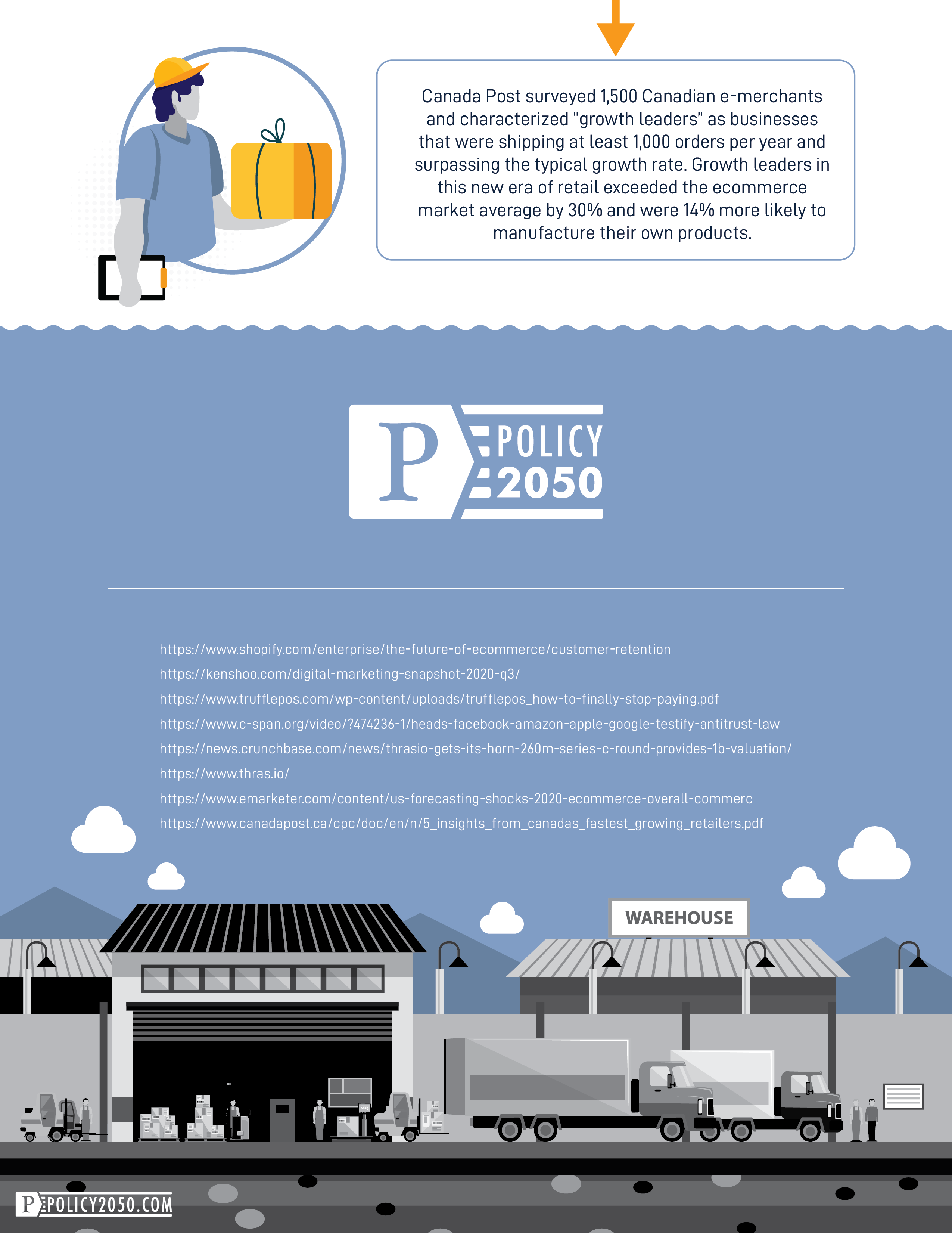 The full report "D2C and Other Digital Adaptations During COVID-19" is now available for purchase on Policy2050.com.