By David Pring-Mill
The following text has been excerpted from Section 1 of the Policy2050 report "Disruptions in Watches and Wearables," in order to serve as a product sample and fulfill Policy2050's mission "to keep the most socially-relevant insights outside of any paywall."
The market for watches is being reshaped by the acceleration of ecommerce and the increased popularity of online auction platforms.
With increased competition from new gadgets, established luxury watch brands must find creative ways to digitally resurface the brand heritage/country-of-origin elements and product details supporting their higher priced, traditional models.
This digital content, and context, now matters as much as tangible and social qualities once did in boutiques. The situation calls for new hiring practices and organizational approaches.
Younger luxury buyers might be more inclined to scrutinize luxury product details, for several reasons: ecommerce reviews turned them into savvier consumers; social media engendered their longing for exclusivity; and digital disruptors redefined the meaning of luxury.
Product details, expressed through content marketing, help to elucidate the matter, improve discoverability, and support luxury positioning.
As luxury watch brands digitize more of their sales, they might also choose to pursue tech partnerships in order to capture market share of the smartwatches/wearables category. This category is supported by rising health/wellness interests and is, arguably, competitive with mid-to-lower-priced traditional watch models.
Advanced sensors, algorithms, and synchronized devices (IoT) underpin these gadgets; smart bands are an increasingly popular form factor defined by their smaller screens.
Luxury conglomerates might need to empower brand and market-specific decision-making in order to enable the levels of agility required during this technological transition, and to increase sales globally.
Within smartwatches, several luxury brands are attempting to pay tribute to the essence of their classic models, while still leaving room for innovation, creativity, athletic and artistic collaborations, and the versatile functionality that consumers increasingly expect.
Identifying unique strategic assets, or strong positioning, might help to de-risk product development, express consistency, and maintain brand equity. The brand equity of watches is reflected digitally: through social media activities, and in bid amounts at online luxury watch/timepiece auctions.
There is potential for watches and smartwatches to continue to blur. As this happens, luxury brands, consumer electronics brands, and health technology brands might all be well-positioned to gain market share, though their marketing strategies will likely differ.
Watch startups are chipping away at established brands by carefully optimizing digital marketing campaigns and following a disruptive playbook, which typically includes crowdfunding, small batch manufacturing, influencers, affiliate partnerships, and the efficient retargeting of leads.
Previously, as the Swiss watch industry was losing market share to quartz models, digital gadgetry, other manufacturing regions, and more fundamentally, changing cultural perceptions, it reorganized, innovated, and produced the Swatch, under the management consulting of Nicolas Hayek. Swatch has been characterized as a forerunner to the popular tech brands that created and populated additional markets for handheld devices.
However, there are some key differences. The perceived and legitimate risk of technological obsolescence, or discontinued updates, in the smartwatch category is an obstacle to luxury positioning. The vertical integration of luxury brands, followed by multiple pandemic-related disruptions, also upended the operations and margins of retailers, some of which responded with discounting strategies.
Watches and their new or expanding ecommerce channels must overcome a scarcity of attention, often in order to communicate their own scarcity. Businesses, and especially watch brands, should try to consistently set expectations and fully deliver when it comes to aesthetics or "atmospherics," interactions, and the convergence of the two. Ultimately, this will have a persuasive effect on relevant segments.
Color is one way of attracting notice. In consumer products today, a useful color strategy must be data-driven, culturally-specific, demographic-specific, product/category-specific, and channel-specific, factoring in brand goals, the competitive landscape, and emotional reactions or associations.
The market for watch bands/straps brings additional color/style/material customization options to this category. Apple, the current global leader in wearables, is also a leader in the commercial use of colors, from the colorful iMacs that once contributed to a brand revival to the gold versions of iPhones that targeted the Chinese market.
Color is significantly factored into purchase decisions but, of course, it's secondary to hardware, as well as the broader digital ecosystems that leverage intellectual property and deliver services. Potential rivals to Apple's smartwatch dominance, which potentially includes Facebook, might also need to clarify their stances on data privacy issues to persuade consumers.
Samsung reported that devices in its Galaxy ecosystem, including tablets, PCs, and wearables, "contributed substantially" to Q2 performance. In what seems like a reference to Apple, Samsung stated its objective "to make Galaxy itself a stronger premium brand with higher level of aspiration by customers."
Notably, Google has acquired Fitbit for $2.1 billion, potentially developing the market even further, while also drawing attention to the need to preserve competition. The EU pushed for interoperability between competing wearables and Android APIs before granting its approval.
As luxury conglomerates and tech multinationals continue to acquire resources and optimize their business strategies, consumers are looking at smartwatches and wearables as potential tools for optimizing themselves.
The "Digital Health Consumer Adoption Report 2020" from digital health-focused venture fund Rock Health and Stanford Medicine noted that digital health adoption continued to increase during the pandemic, though the market didn't necessarily draw in new consumer subgroups.
The report was careful to represent its 2020 survey findings as "a snapshot in time" of consumers during an atypical period, which might ultimately become re-contextualized as a period of overshoot followed by a new equilibrium.
It might also be helpful to view smartwatches within the context of the fashion industry.
Historical continuities in fashion trends, or cycles, have long been observed by those working in the industry, and in many ways, their work assumes and deliberately brings about these revivals. Laver's Law even proposes a timeline of public perceptions, with so-called "daring" choices transitioning into "current" or "smart" over the course of one year.
However, digital communication/ecommerce may have accelerated or otherwise meddled with the previous cycling, and the influence of industry events has diminished.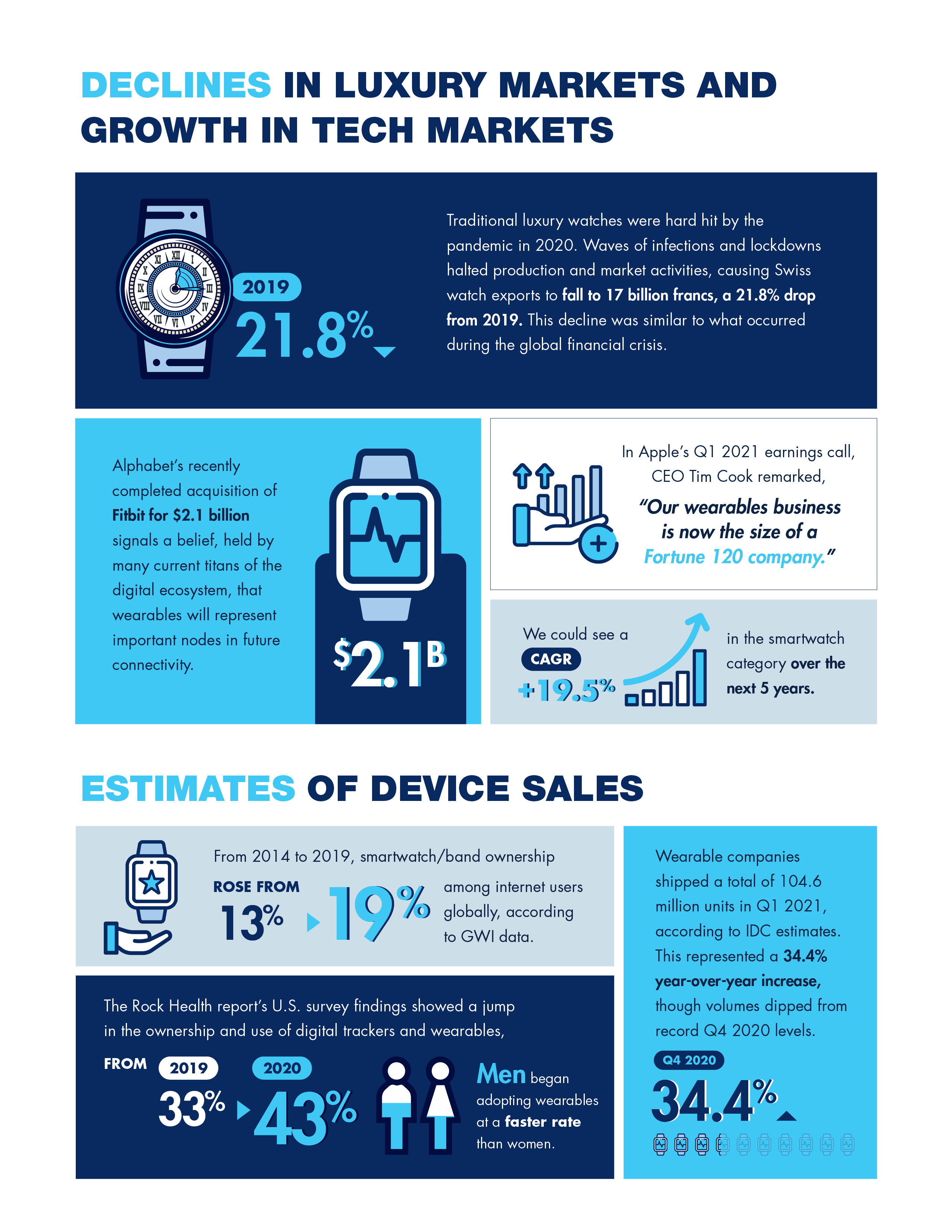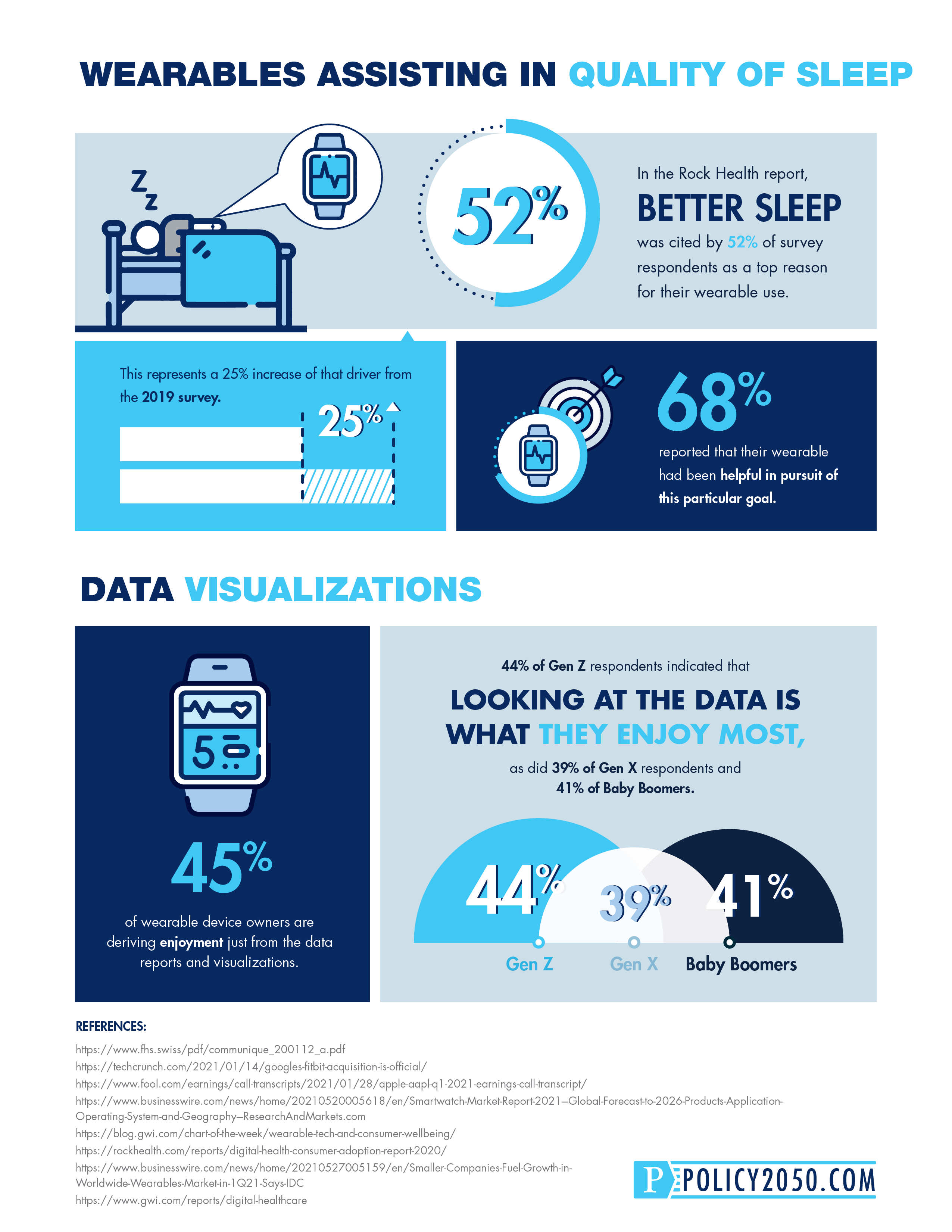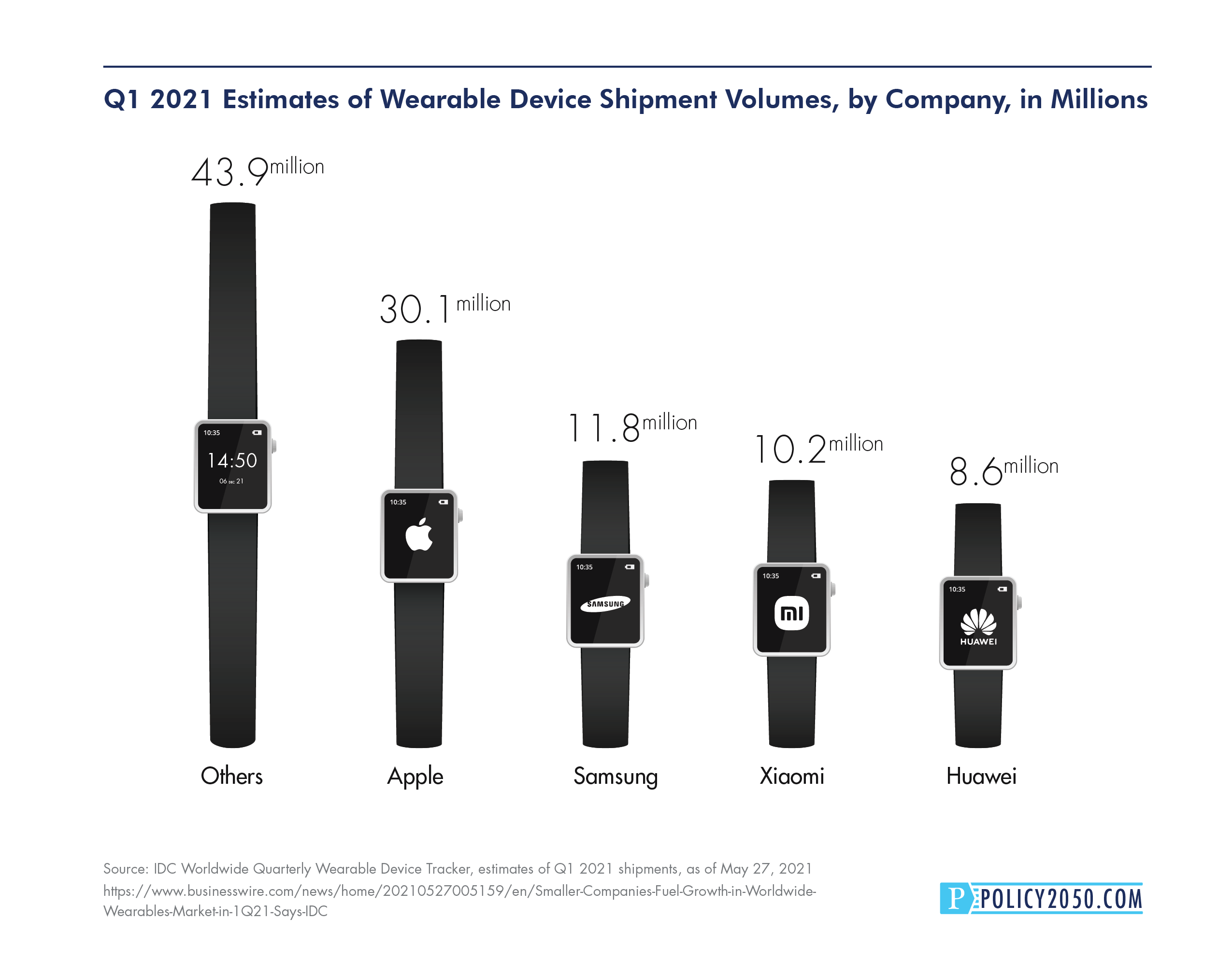 The full report "Disruptions in Watches and Wearables" is now available for purchase on Policy2050.com.