By David Pring-Mill
The following text has been excerpted from the Section 2 introduction of the Policy2050 report "Smart Retail: Technologies and Trends Analysis (2022-2025)," in order to serve as a product sample and fulfill Policy2050's mission "to keep the most socially-relevant insights outside of any paywall."
To achieve success, retailers and smart retail providers alike must anticipate not only major changes but also the pace of that change. Given the rampant supply chain issues, record inflation, shifting consumer behaviors, technical complexity, and disruptive innovation, a retailer's work is never done. Fortunately, a strategic framework can help to clarify smart retail adoption and usage.
The best retailers are building digital cultures to support the creation, growth, and cohesion of their digital properties, to encourage experimentation, analytics, and insights, and to guide their transition into an era of "smart retail." Smart retail companies are studying and predicting their needs.
Di Di Chan, co-founder and President of FutureProof Retail, provides scan-and-go technology to retailers She met her business partner in a philosophy club. As she tells the story, abstract discussions of time converged with the realization that waiting in line, especially in time-sensitive situations such as airport terminals, no longer made sense – and this was in 2013. It seemed as if retail was lagging behind technological capabilities. Like the other smart retail companies explored in this report, Chan needed to devise a solution within a strategic framework that would align with the needs, cultures, and trends of retail.
She recognized a hype cycle where, every decade or so, a new technology is introduced, becomes the next big thing, and then, the new baseline. The previous big technology had been ecommerce, which appeared to be hitting diminishing marginal returns. Amazon and Alibaba, the ecommerce giants of the East and West, seemed like they might therefore come offline into the physical retail space in some form, yet with "all of the bells and whistles of the technology."

Chan suspected that either grocery or fashion, the sectors with the slowest ecommerce growth, would be where they'd move into — and perhaps by offering "online to offline technology," Chan's startup, FutureProof Retail, could prove itself relevant and useful. They assembled a team with expertise in mobile app development, dating back to the launch of the App Store.
Chan now feels that she was right about the direction but wrong about the timing since Amazon and Alibaba did not make these moves until several years later. Chan has observed another, more self-defeating trend within smart retail itself, where when the market isn't ready, the smart retail startups respond by throwing money into marketing and advertising.
Ultimately, this doesn't generate ROI because "a technology, as cool as it is, is not the main point of the business – the business is the business, the technology should be the backdrop."
Similarly, Neha Singh, founder and CEO of Obsess, a virtual store platform, thinks it's time to progress beyond the entrenched UX/UI standard – a grid of thumbnails on a white background – that was "really created by Amazon 25 years ago to sell books, but somehow got used for every brand and every category." Early exposure to an Oculus Rift DK2 inspired her to test the waters of VR-based ecommerce, but they got there too early. After a couple of years, marked by slower than expected VR headset adoption, they ended up moving to a completely mobile and web-based platform, which remains their primary product, though the "metaverse" is clearly on their horizon.
These startup histories demonstrate the importance of trends and timing in smart retail. Smart retail companies must quickly adapt if the initial thesis lacks market validation. Di Di Chan says they would have planned differently if they knew that the online-to-offline shift would take a little longer. While awaiting market maturation, they focused on partnerships with other companies in the space. "So when we can't go after the clients directly, because the whole thing isn't ready, they don't have a need for it yet: then we go and we create collaborative relationships," she explained.
While the original game plan was to launch and grow in the U.S. first before expanding internationally, business partnerships and the delay of Amazon/Alibaba setting a trend by coming offline pushed them in the direction of overseas markets with different growth rates, where they could establish a presence and brand. They went into Europe and Asia simultaneously and are now on three continents in five retail verticals, which Chan partly attributes to going international faster than originally intended.
She likens the smart retail space to the tortoise and the hare fable, where deliberate, incremental progress ultimately results in victory, along with an appreciation for game theory. As Section 2 of this report will show, retailers are also in the race, and they often must combine their intuitions with data in order to curate inventory and reconnect their traditional commerce to an era of digital content, while also navigating data governance. It is, perhaps, more complicated than a race, and the rules are still being determined.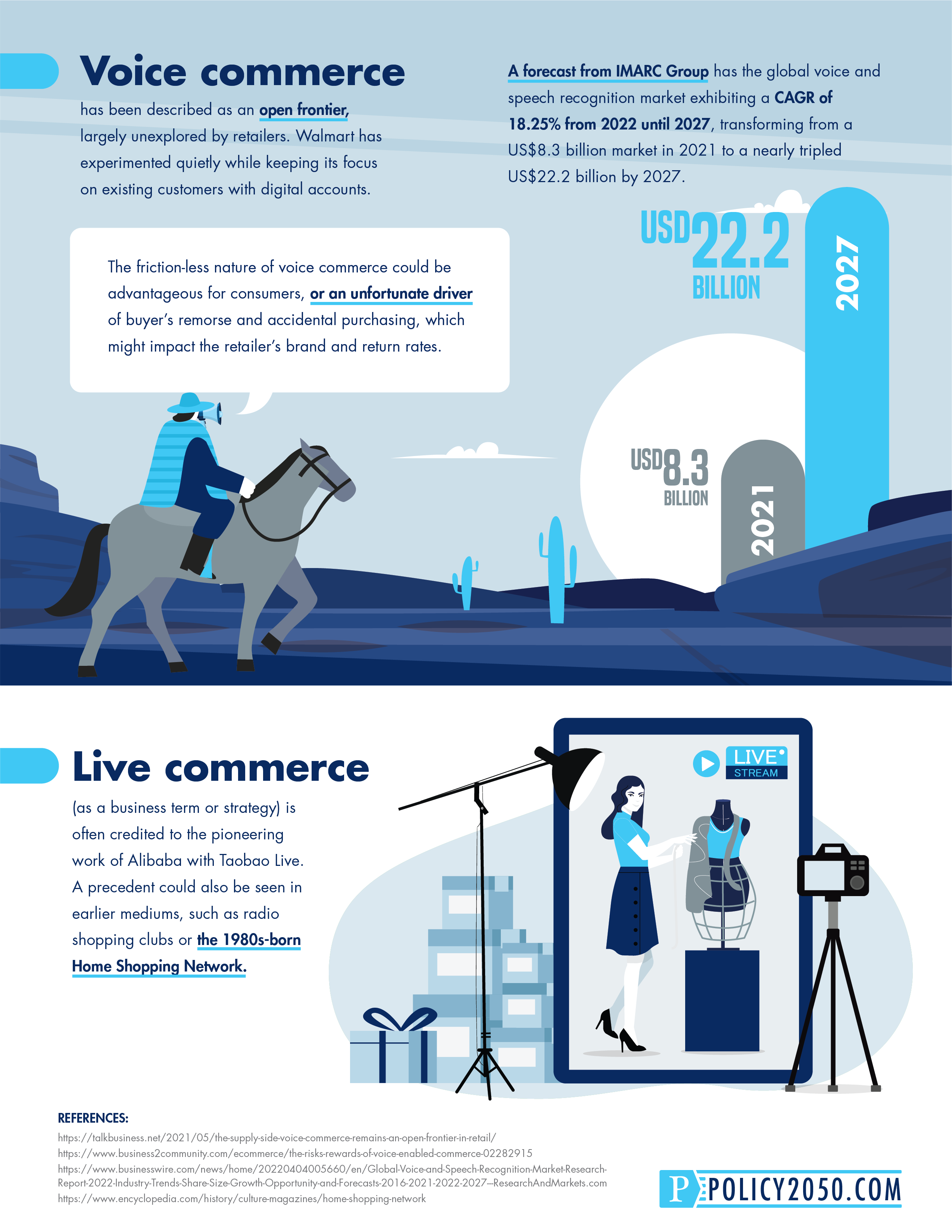 The full report "Smart Retail: Technologies and Trends Analysis (2022-2025)" is now available for purchase on Policy2050.com.