The "Smart Retail: Technologies and Trends Analysis (2022-2025)" report is approximately 25,000 words (95 pages). It establishes a strategic framework for smart retail adoption, then explores relevant technologies.
This report will provide comprehensive answers to the following key questions:
How are major retailers like Walmart approaching smart retail deployments?
How are smart retail startups approaching prospects and clients in retail?
How can retailers transform their cultures to encourage tech experimentation?
How can retailers use data to better understand consumers and curate inventory?
What are the opportunities and risks in this vast data ecosystem?
What are some of the technologies being used to generate new shopper experiences?
Table of Contents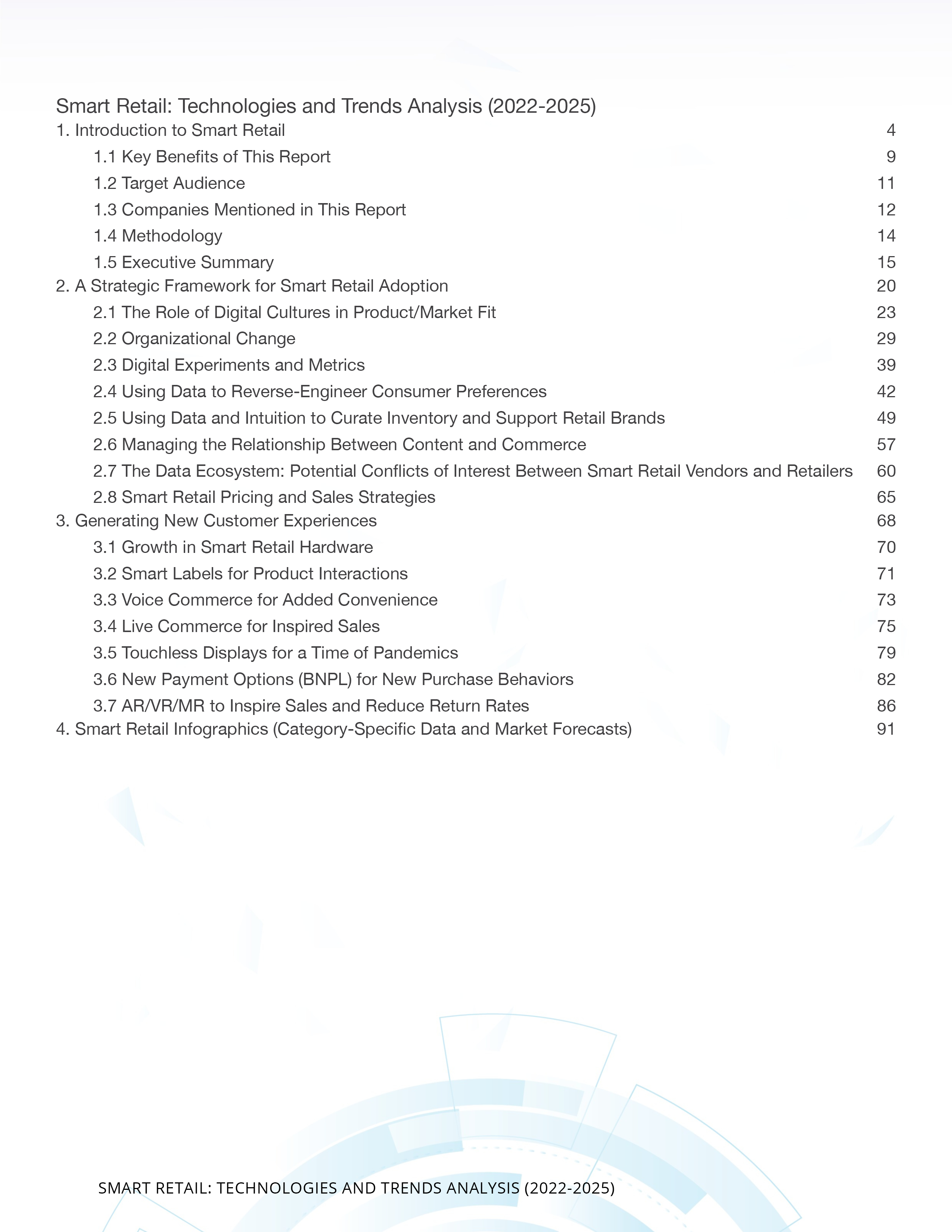 Key Benefits of This Report
This analysis will serve investors, retailers, and smart retail companies by providing a bird's-eye view of recent and forthcoming changes in retail. It illuminates smart retail strategies and categories through multiple case studies, based on primary and secondary research.
Key data points, including market forecasts, are visualized as infographics for time-saving information ingestion. These compelling images are easily extractable for the purposes of internal presentations. Featured experts from the smart retail space are quoted throughout the document.
This data-rich report begins by identifying the frameworks and levers that will determine market growth, such as retailers' ability to build and nurture digital cultures, and smart retail providers' perceptions of the trends or pain points that impact retailers most.
Subsequently, the report explores smart retail categories that are being used to generate new customer experiences as part of this industry shift. These innovative technologies are tied to aggregated surveys, forecasts, and other data, as well as business objectives.
Ultimately, this report highlights the thinking of the entrepreneurs pushing disruptions and the retailers evaluating tech deployments. This depiction of the smart retail space could be useful as a reference point for investments, decision-making, pitches, and presentations.
The report also surfaces over 200 quantitative insights within its strategically-oriented, highly qualitative structure. Some forecasts vary dramatically, so these projections are carefully contextualized and represented as a spectrum.
Target Audience
venture capitalists in the smart retail space
major retailers evaluating new technologies and trends
smart retail companies and innovators
investors anticipating long-term retail/CPG shifts
ecommerce platforms evaluating offline opportunities
Companies Mentioned in This Report
This report has gleaned strategic insights from the statements and activities of smart retail startups and retailers.
Smart retail providers mentioned in this report include:
Grabango
Obsess
SES-imagotag
FutureProof Retail
Retailgate Technologies
Splitit
Meta
Yahoo
Retailers mentioned in this report include:
Walmart
Amazon
Gap Inc.
Nordstrom
Carrefour
Experts interviewed for this report include:
Daniel Markuson, Digital Privacy Expert, NordVPN
Andrea Giacomini, CEO, Mitto
Pranav Saxena, CTO, NZ Technologies
Barbara Casey, CEO, Mobile High 5
Lenny Adams, Founder, Toli 360
Avi Efrat, Founder and Director, Fantastic Framing
Methodology
Policy2050 excels at identifying the strategies and patterns within complex data, gathered through exhaustive research. This process includes publicly available sources, such as annual reports, academic journals, consumer surveys, trade publications, industry symposia, and podcasts, along with interviews and inputs from a wide network of market experts and internal knowledge. Strategic perspectives are leveraged from across the value chain and from relevant tech vendors causing disruptions or reconfigurations in markets.
Information is filtered and validated through this lens of expertise and scrutiny, or contextualized to expose differences in results and industry disagreements. Perceptions of current trends, as reflected in reporting, often translate into actions and investments with consequences. The many hyperlinks included throughout this report help to ensure that important figures, strategic statements, and other market characterizations are easily and fully traceable.
All of this analysis is delivered within an actionable framework that outlines best practices, proposes innovations or adaptations, and extracts insights from case studies. Infographics and imagery are used to express key concepts and enliven this comprehensive overview where appropriate.
Media Kit
The "Smart Retail: Technologies and Trends Analysis (2022-2025)" report press release can be found here. The original graphics within this release can be freely used by the news media (including content marketing blogs) with attribution to Policy2050.com. Additional media materials are available upon request.
Inquiries can be directed to david.pringmill@policy2050.com.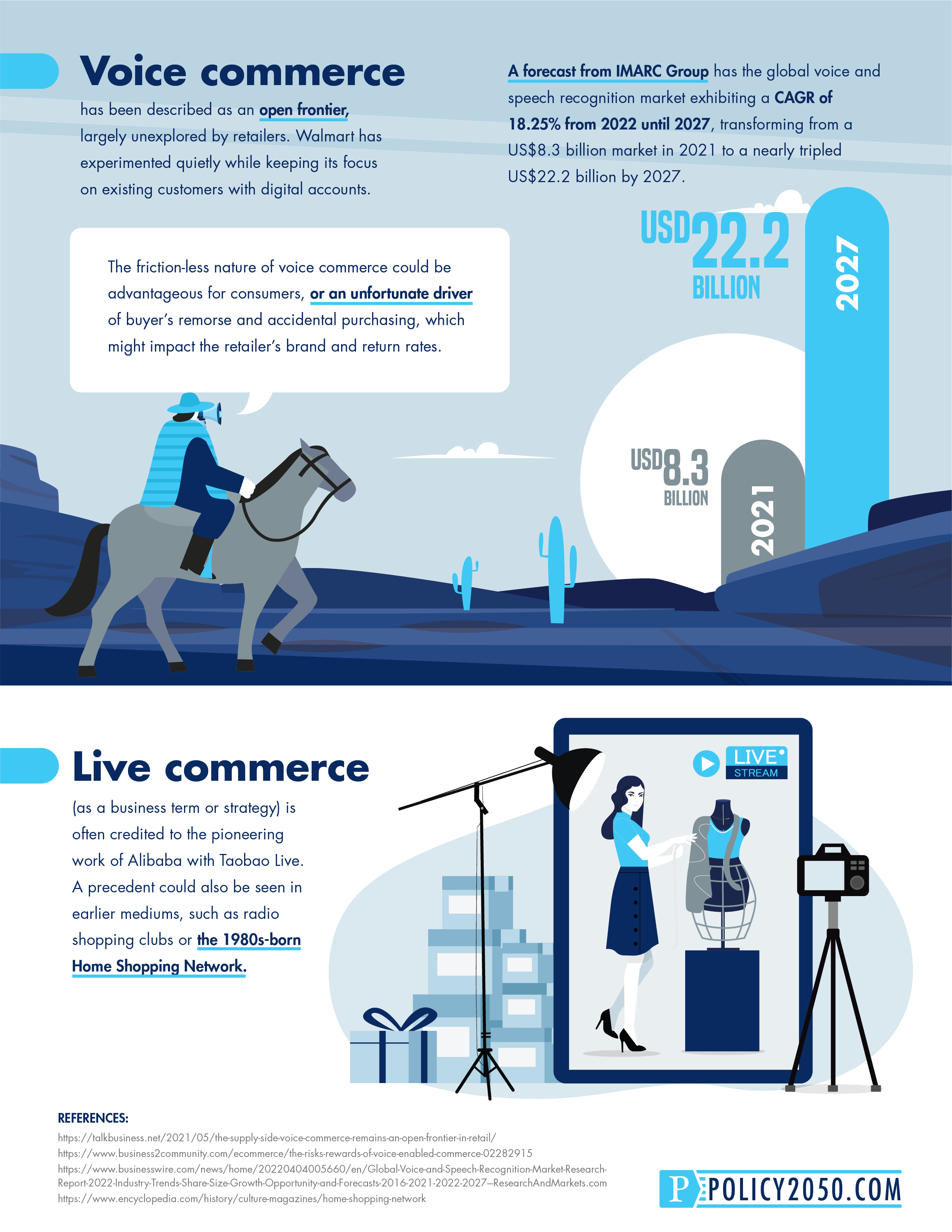 Purchase Options