By David Pring-Mill
The following text has been excerpted from Section 11 of the Policy2050 report "B2B Sales Enablement: New Technologies, Tactics, and Trends (2022-2025)," in order to serve as a product sample and fulfill Policy2050's mission "to keep the most socially-relevant insights outside of any paywall."
B2B sales enablement tools have long been moving in the direction of streamlining sales-related processes, from automating select actions of sequences or cadences to quote-to-cash AI meant to enhance oversight but also "collapse cycle times." However, shifting economic conditions have already caused the providers of B2B sales enablement tools to respond, in anticipation of the way their customers (sales teams) will be impacted. Prospects are expected to delay their decision-making and scrutinize costs, which will inspire tactical adjustments from sales, potentially making the process more "high-touch."
Outreach, which achieved a nearly US$4.5B valuation, recently made staffing cuts, seemingly focused on the content team, while predicting or at least invoking an "upcoming economic storm." Marc Benioff, now co-CEO of Salesforce, is accustomed to making adjustments during weaker economic cycles and servicing sales teams during them. "Sales cycles can get stretched, deals are inspected by higher levels of management, and all of this we began to start to see in July," he observed. "Nearly everyone I've talked to is taking a more measured approach to their business. We expect these trends to continue in the near term, and we've reflected this in our guidance."
According to Brandon Bornancin, founder and CEO of Seamless.AI, his business of selling sales leads and sales lists is, to some degree, recession-proof. "However, people have tighter budgets, people are taking more time to think about it, so you know, you have to showcase the urgency, the ROI, the impact that you're going to make on these customers' lives to get them to where they need to go," he adds. This year, they're on track to book over 110,000 appointments just for their own company, which gives them a broad view of sales leaders' thinking and affirms the notion that these days, more individuals within enterprise organizations must be consulted to get to budget approvals and sign-offs.
Reflecting on changing economic conditions in a 2022 webinar, Ibrahim Bashir, VP of Product Management at the digital analytics platform Amplitude, suggested that businesspeople might become more inclined to "make do" with inefficient processes, rather than generate budgets for products that solve those pain points. Therefore, go-to-market and product strategies have to holistically pinpoint where the budget is going to come from, perhaps even explicitly proposing "here's a role that you can eliminate, or a tool that you can consolidate," as opposed to a general productivity pitch where budget gets approved through procurement and finance.
John Cutler, Product Evangelist at Amplitude, added that he sees increasing complexity in the buyer-user dichotomy, where passive advocates, active advocates, and the change-resistant all intersect. Cutler explained, "The buyer is just the person who maybe writes the check, and you've got an executive sponsor who really believes in it. You've got a project manager who is kind of reluctantly going to have to work on implementing this, and you've got a passionate product advocate who needs to make this happen for their teams to start working the way they want to work."
Even in prior years, Gartner concluded that "the median B2B buying group involves six to 10 decision makers' each armed with four or five pieces of information they have gathered for themselves." At the end of 2021, Vendr observed that a minimum of "four yeses" typically have to come from the department head, finance lead, security lead, and legal. While efforts are being made to standardize or streamline as much as possible, security or legal negotiations are expected to stick around for longer in the enterprise tier (even presupposing a healthy economy).
One way that sales leaders can take charge is simply by jumping on their inbound leads faster. Former IBM buyer Ariel Yoffie has stated that IBM's own buying cycle is typically long, complicated, and grueling, consisting of 5 phases of evaluation:
Reviewing vendors' websites
Sending a request to the vendor and receiving a response
Discovery and demo calls
RFP submission and evaluation
Proof of concept
Surprisingly, despite the opportunity of having a Fortune 100 customer like IBM, some vendors drop the ball on timely, forthright responses, while Yoffie considers 48 hours to be a good, acceptable benchmark. RFP processes might also become more detail-oriented and onerous – and in Yoffie's words, even ordinarily, "they're rarely fair, they're always expensive, and they're quite risky in terms of the cost of sale."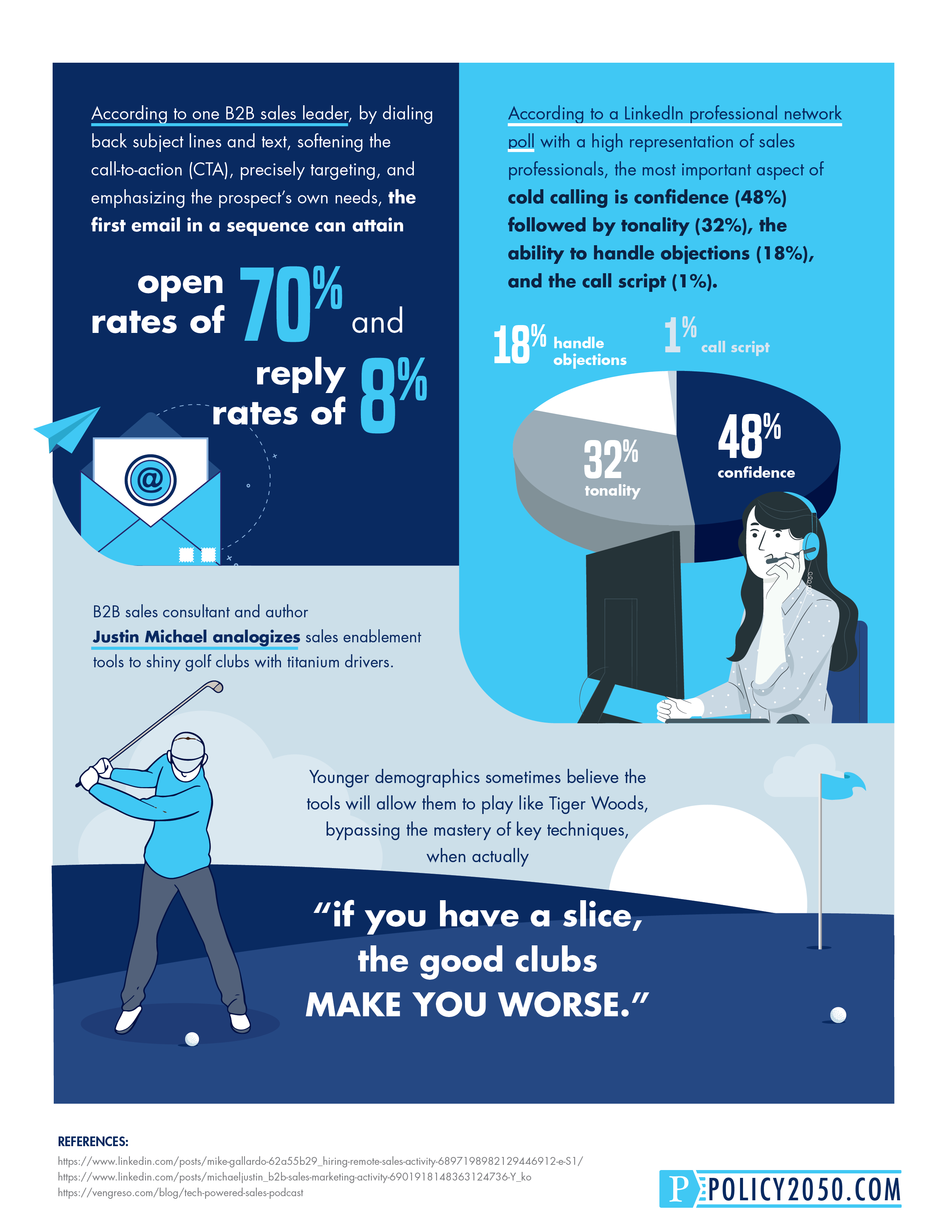 The full report "B2B Sales Enablement: New Technologies, Tactics, and Trends (2022-2025)" is now available for purchase on Policy2050.com.